Ruby Crate Review: Teen Crate Winter 2022
Happy New Year! I hope you had a nice holiday. Ours was relaxing apart from water in the basement on New Year's Eve 😬 but it could have been much worse so I'm counting my blessings. I've got several boxes that came in before the holidays to share with you over the next couple of weeks. Today, the latest from a fun lifestyle box for girls, Ruby Crate. They make one for tweens and another for teens each season. Here's a look at the Winter Teen Crate.*
*They kindly sent this crate for review.
Each Ruby Crate includes a guide to the contents and a welcome note personalized for your teen by the co.'s founders. An Ontario mom and her tween created Ruby Crate a few years ago when they couldn't find anything like it. They've since gone on to win awards, garner all kinds of press and were just featured in Marilyn's annual 10 Days of Giveaways.
We've been lucky to try several Ruby Crates and I feel like they're just getting better and better. So many fun things! A really great balance of trendy and practical items from bath bombs to soothe those growing pains to jewelry and hair accessories to complete your daily 'fit. Ruby Crate encourages girls to find their personal style, express themselves, and take time for self care.
Get decorating with these new winter-inspired postcards to add to your collection. Bonus! A deck of taco-shaped playing cards. (Ruby Crate always includes a few surprise extras.)
Up your baking game with this fun spatula and cookie cutter set and a yummy sugar cookie recipe from Rosie!
Stay on trend with these curly hair spirals that look pretty in your hair or on your wrist. What beautiful arm candy.
Create lashes that WOW! With its curved lash brush, this mascara will deliver show-stopping, lifted lashes!
Hydrate and nourish your eyes with this under eye treatment. It's a mini spa for the skin that will leave you refreshed.
Bonus! Two organic lip balms in coconut and gingerbread and clear quartz face and body jewels.
Decorate your room or desk and get creative with this inspirational wooden accessory!
Go hands-free with this trendy crossbody belt bag. Keep all your essential items handy and ready to use.
Keep warm and cozy in this classic cuff beanie that can be worn fitted or slouched. Bring on winter!
Bonus! A gingerbread-scented pen and two mini packs of Squish gummies (not shown in these photos).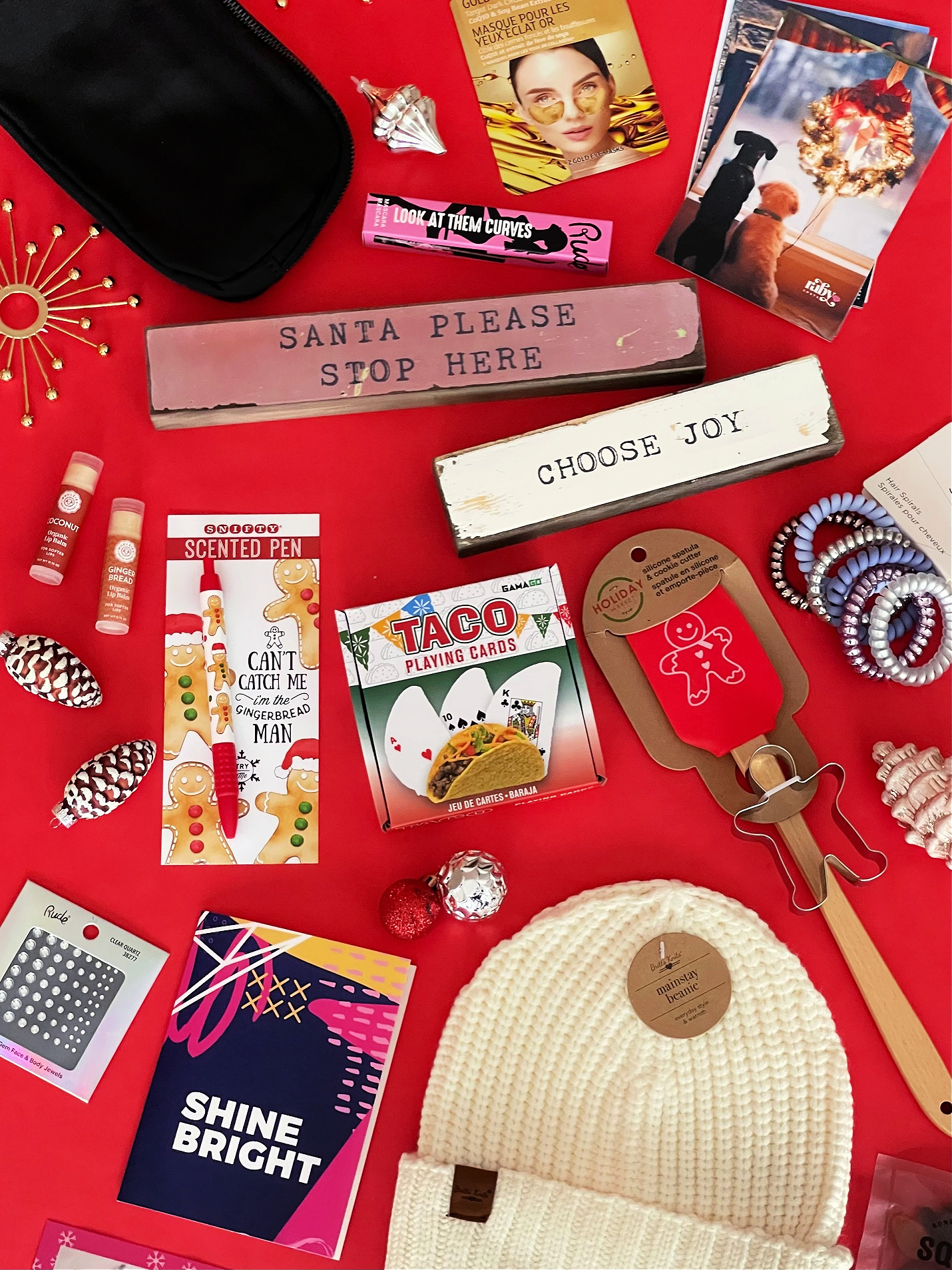 What a great gift, am I right?! 😍😍
Ruby Crate ships four times a year (March, June, September and December) across Canada and the US. One-year subscriptions are available or you can purchase each box individually. They also sell double crates with two of every item in each box so your girlie can share.
Pricing (CAD; taxes and shipping additional):
Year-long Ruby Crate — $239.80
Year-long Double Ruby Crate — $459.60
Single Ruby Crate (Spring 2023) — $64.95
Double Ruby Crate (Spring 2023) — $114.90
Grad Ruby Crate — $74.95
Birthday Ruby Crate — $69.95
Campus Crate — $74.95
Have you tried Ruby Crate?
Try Small Things – https://trysmallthings.com