Ruby Crate Review Winter 2021
How do you get Pikachu on a bus?
Poke him on.
I told that joke to my teen just now and the laughs! OMG we were howling. 😂😂 And if you believe that I've got some swampland in Florida you might want to buy. Because of course the only legit teen response is a sigh and an eyeroll. 🙄 Pffft! Teenagers. Tough crowd, tough crowd. You know what my teen did like, tho? Her latest Ruby Crate. It's a quarterly Canadian lifestyle box for tween and teen girls — a separate one each season for each age group — filled with a bounty of beauty products, accessories, stationery and decor items. The Winter one (this one) is sold out but you can still order the Spring Crate shipping in March. (Thank you to Ruby Crate for sending us this one for review.)
Ruby Crate ships four times a year (March, June, September and December). One-year subscriptions are available or you can purchase each box individually and you can double the treasures in each box to share the surprise with a sibling, BFF, or whoever you like.
They also have a birthday crate that can be shipped any time, 'tho they do suggest ordering at least two weeks of the date you'd like it delivered.
Pricing (CAD; taxes and shipping additional):
Year-long Ruby Crate — $239.80
Year-long Double Ruby Crate — $459.60
Single Ruby Crate (Spring 2021) — $64.95
Double Ruby Crate (Spring 2021) — $114.90
Birthday Ruby Crate — $69.95
Ruby Crate currently ships across Canada and the US.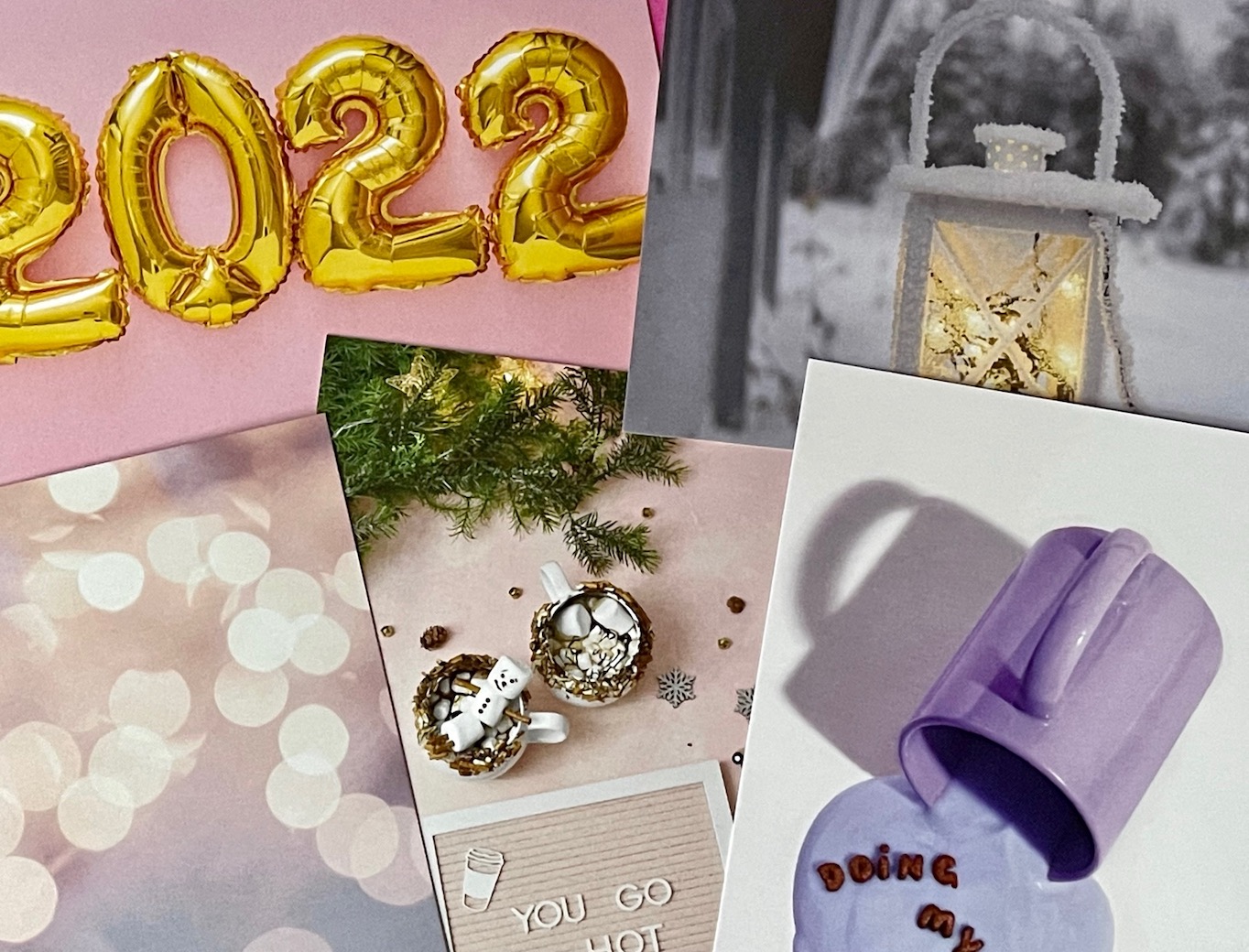 One of our favourite things in the Winter Ruby Crate is the set of seasonal-inspired postcards for sharing with friends or decorating your room. The images are very much of-the-moment (tho personally I think letterboards and metallic number and letter balloons are here to stay) and evoke a variety of positive messages from self-confidence to self-expression and all the cozy vibes.
The anti-stress fidget pop ball has practically become an extension of my daughter's hand as she's constantly popping it and squeezing it and rolling it around. Whether it lowers her stress is TBD but the popping is not obnoxiously loud (it's pretty quiet actually) so it doesn't add to mine.
Each Ruby Crate includes a recipe. For Winter it was Rosie's Kitchen Co's Holiday Crackle or what we call Christmas Crack because it's crazy addictive. 🤪🤪 And Christmas time is always puzzle time so Ruby Crate included one of those too — a Christmas sweater micro-puzzle with 150 pieces.
We love the fun and festive red of the Blush satin scrunchie, the sparkly-but-subdued colour of the Rude Cosmetics Stardust diamond topper gloss, and the delicate scent of the Spongellé Snow Flower body wash infused buffer.
The Winter beauty bounty also included Rude Cosmetics Moon Smut face and body shimmer (great product, terrible name), Technic vanilla lip balm and a Montagne Jeunesse vanilla & honey face mask. Some really nice products to make you feel pampered. Because tweens and teens need self-care too!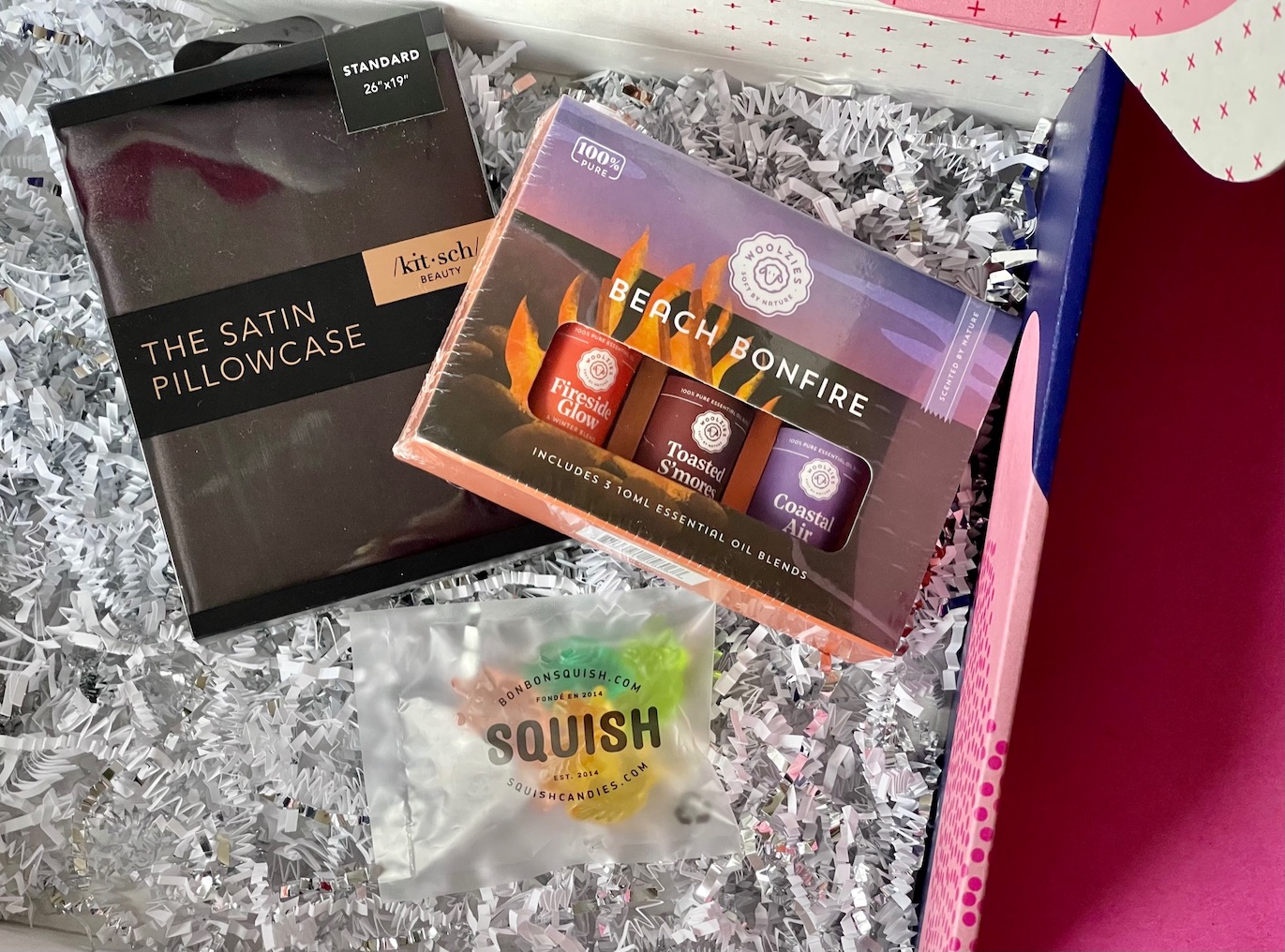 And there's even more! A satin pillowcase by Kitsch Beauty, Woolzies beach bonfire essential oil blends and Squish unicorn gummies. The pillowcase and gummies are hits but we'll have to research the essential oils to make sure they're safe for our cat before trying them around the house. A beach bonfire collection seems like something more appropriate for a summer Ruby Crate but sometimes a little summer dreaming in the winter is what you need to get you through.
And finally, a cute scarf by Great Northern. It's really lightweight so more of a fashion accessory than something to keep you warm. Ideally it would be both but for subscribers with more temperate winters, perfect!
Ruby Crate makes a thoughtful "I care" package for tween and teen girls with a fun assortment of products from beauty to stationery and everything in between. I would have been thrilled to have a subscription when I was a teen! And it gets my own teen's approval, unlike my jokes. 😀🙄
Is there a tween or teen in your life who would enjoy Ruby Crate too? What else do you think they'd like to see in a future box?
Try Small Things – https://trysmallthings.com