See New Skincare Review March/April 2022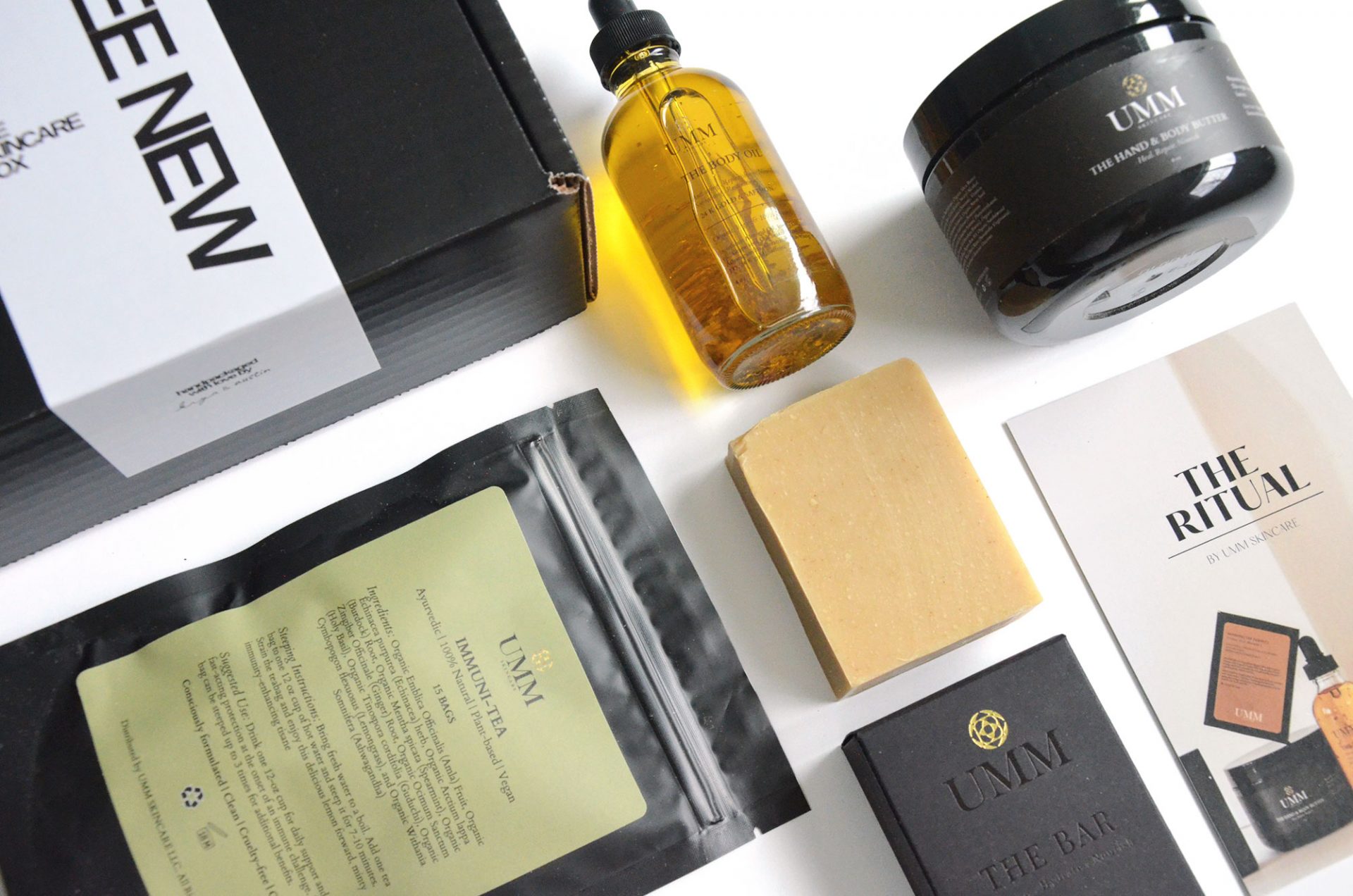 See New Skincare Box is a green beauty discovery service. This bi-monthly skincare subscription box is delivered to help you to discover cult favorites paired with new finds. They kindly sent us this box for review.
Every See New Skincare Box features a fuss-free skincare routine from one featured brand. They help you experience the best of clean beauty through high quality products made with safe and skin-loving ingredients. Each box will feature 4-6 full-size products with a value and will sometimes include extra deluxe products as well. Their goal is to allow the subscriber to experience exactly what each brand has to offer in a full routine!
All products chosen meet strict ingredient standards and are good for both you and the environment. Each delivered product is at peak potency and efficacy meaning they guarantee the products sent are freshly made, directly from their brand partners, often by hand, just for the See New community. See New subscribers receive an exclusive 20% off discount on purchases from the See New online store too. And an extra charitable bonus is that each box purchased helps give back to the community through a chosen organization.
Subscription Details
See New Skincare Box is a bi-monthly subscription, meaning it's sent every other month. There are 3 subscription options at different costs:
Bi-monthly: $56/box
6 Month Pre-paid: $47.60/box or $142.80 Billed every 6 months
Annual Pre-paid: $42/box or $252 billed annually
Shipping is free for US customers, Canadian shipping is a flat charge of $14.99, and international shipping is a flat charge of $25. New boxes are shipped the 5th of January, March, May, July, September, & November.
March/April Box Details ($xx total value)
"UMM Skincare takes inspiration from Ayurvedic principles and balances the centuries-old well-renowned body care rituals with a scientific approach. Founded on a belief system that skin health is synchrony of mind, body, and the natural world, UMM has developed a clean and functional body care portfolio, designed to improve skin health for ALL."
I'm so excited that this month's box introduces a line I've never heard of before that also focuses on Ayurvedic principals. I'm so intrigued by that practice and love learning more about it, especially though beautiful products like these!
Here's a look at what's in the See New Skincare Box:
THE BODY OIL | UMM SKINCARE ($64.99)
"This beautiful Body Oil is a deeply nourishing and luxurious all-over replenishing ayurvedic treatment. The high-performing oils of organic almond, jojoba, sesame, safflower & grapeseed help soften and hydrate the skin. Ashwagandha root oil is a deeply penetrating and warming oil that nourishes the bones, tissues, and muscles. It enhances the skin's natural suppleness and elasticity, making it an excellent moisturizer for dehydrated or dry skin. 24 K gold and Saffron provide a high dose of antioxidants. Together the body oil is power-packed with nourishment for the entire body, face, and scalp. Formulated with certified organic ingredients, Vegan & Natural."
What a beautiful body oil! I have nothing like this in my collection and it's looks alone with those gold flecks throughout immediately earn it a spot on my display shelf. I'll certainly be using it a lot too with it's major dry skin benefits. Even thought the dry season of winter is closing, my dry skin issues likely won't stop so I'll be appreciative of this product's benefits. I'm intrigued by the addition of ashwaganda which is said to warm and nourish not just the skin, but at a deeper body level too. I can't forget to mention the smell – it's such a lovely jasmine floral that's made a bit sharper with the addition of geranium. I'll be turning to this following showers going forward!
THE HAND & BODY BUTTER | UMM SKINCARE ($49.99)
"Reparative and nourishing body butter loaded with the healing properties of shea butter, coconut oil, aloe vera, and several high-performing botanicals. The hand and body butter is the ultimate hydrating multivitamin formula for extremely dry skin. It repairs and nourishes the skin deeply. Our artisanal fine fragrance profile of the Jasmine, Rose & Sandlewood make it a harmonious blend of uncompromising luxury for your everyday moments."
This is a lovey, and rich hand and body cream. It's thick, but applies nicely without a trace of greasiness. I often have dry and itchy skin issues so this cream that's formulated to remedy that is perfect for me to try out. I like it's warm and comforting aroma, which is heavily floral with a hint of earthy grounding notes too.
IMPERFECTLY PERFECT | SOAP BAR | UMM SKINCARE ($19.99)
"Our Imperfectly imperfect bar recipe is power-packed with a combination of Ayurvedic herbs and oils. Soothing farm fresh goat milk blended in with deeply moisturizing organic oils of coconut, olive, shea & flaxseed combined with the medicinal herb Turmeric makes this bar one of a kind.You are guaranteed to fall in love with its exfoliating cleansing, moisturizing & nourishing benefits."
I just love getting handmade soap in subscription boxes so this item is great! It's a beautiful golden color and smells so amazing. It's bright, a bit spicy and awakening in it's aroma. It will be absolutely perfect for a morning shower wake-up. I appreciate it's skin soothing herbs and nourishing oils that will add to the overall experience. It says you can use it for body, hair and as a shaving bar which make it a great multi-tasking product too.
IM.MU.NI.TY | TEA | UMM SKINCARE ($19.99)
"The tannins and saponins in Gymnema have anti-inflammatory properties that help fight inflammation. Holy basil is also high in anti-oxidants and helps your body detox. Holy basil can protect your body against toxic chemicals. It may also prevent cancer by reducing the growth of cancerous cells. It is also an anti-Inflammatory, anti fungal, anti viral & anti bacterial. Turmeric Contains Bioactive Compounds With Powerful Medicinal Properties. Curcumin has powerful antioxidant effects. It neutralizes free radicals on its own but also stimulates your body's own antioxidant enzymes. It's a potent anti-inflammatory and antioxidant and may also help improve symptoms of depression and arthritis. Haritaki is rich in vitamin C and substances found to have antioxidant and anti-inflammatory effects. Cinnamaldehyde in cinnamon has antifungal, anti-inflammatory and antibacterial properties. Rooibos rich in anti-oxidants. A blend of these powerful adaptogenic herbs make this Tisane a fantastic addition to your Immunity support*."
I really enjoy trying new teas, especially when they are formulated with health benefits in mind. This one is perfect for the season and the on-going life situations at hand. It smells lovely, with it's bright and herbal citrus aroma that has a cooling sense of mint to it as well. I'm sure it tastes just as good too! I look forward to trying it out and adding this to my immunity building collection of tools.
See New Skincare Review March/April 2022 – Final Thoughts
What a beautiful brand this month! I had never heard of it or any of their products before and thoroughly enjoy being introduced to them through this thoughtful collection of items. I'm so glad that this boxes contents are body focused and really appreciate that they tend to intermix these types of curations in between the skincare collections to refrain from overwhelming either personal care category. Umm's products are unique and welcome in my routine of self care with their beautiful packing and interesting and intentional ingredients. I'm so excited to give them all a try and take in their benefits.
What do you think of this month's See New Skincare Box?
The Botanic Gal – http://www.botanicgal.com