Splendid Spoon Review July 2020
Splendid Spoon offers ready-to-eat, nourishing, plant-based smoothies, soups and grain bowls. Their plans are designed to create healthy routines for breakfast and lunch, so you can reach your health goals. Each meal contains clean, fresh, plant-based, gluten-free, and GMO-free ingredients. They kindly set us this box for review.
Splendid Spoon is a plant‑based meal program that consists of ready-to‑eat, pre-portioned, calorie‑controlled meals that are made with only whole ingredients. They are a brand built on the idea that just a few small changes can create a lasting impact on your health. They believe in supporting the quest for a simple wellness routine that establishes sustainable habits.
All meals are vegan, gluten-free, soy-free, and low in sugar and sodium. Detailed nutritional information for each of the meals is always available on their website. You can customize your weekly order by choosing from their 40+ meal options so you only receive the meals which fit your dietary needs.
Their smoothies are created to satisfy hunger, boost nutritional intake, and kick start metabolism. They are significantly lower in sugar than your standard smoothie, and rich in protein and healthy fats.
Their plant-based soups and grain bowls are filling, ready-to-eat and loaded with veggies. They help boost nutritional intake, and curb afternoon snacking.
They also offer a set of 5 light soups, called their Full-Day Reset, that are designed to reset your digestive system. Three for meals, and two for snacking.
Subscription Details
There are three subscription plan options for this box with weekly delivery:
Lunch Only: 5 Bowls, $13/meal or $65 total
Breakfast + Lunch: 5 Smoothies and 5 Bowls, $9.50/meal or $95 total
Breakfast + Lunch + Reset: 5 Smoothies, 5 Bowls and 1 full-day reset (which includes 5 light soups), $9.00/meal or $135 total
You can also do a Prepay & Schedule option which means you make a one-time payment for multiple deliveries (either 4, 8, or 12), and schedule each delivery to best suit you. You select your first delivery date when you purchase and then schedule the remaining deliveries in your account at any time. This plan does not automatically renew, and expires one year after purchase.
Meal boxes are delivered weekly and are shipped via FedEx. They are shipped with dry ice and recyclable Climacell insulation to make sure your delivery arrives chilled.
July Box Contents
Each month I'll share the list of every item that came in the box and will choose a few to give a more in depth review on. This month my week's worth of Splendid Spoon meals consisted of:
Mango Guava Smoothie
Mint Chip Smoothie
Orange Hibiscus Smoothie
Cacao Almond Smoothie
Carrot Ginger Chia Smoothie
Green Goddess Quinoa Bowl
Tuscan White Bean
Coconut Curry Rice Bowl
Moroccan Spiced Buckwheat Bowl
Garden Minestrone
Detox Shot
Here's a closer look at a few items from this month's Splendid Spoon box: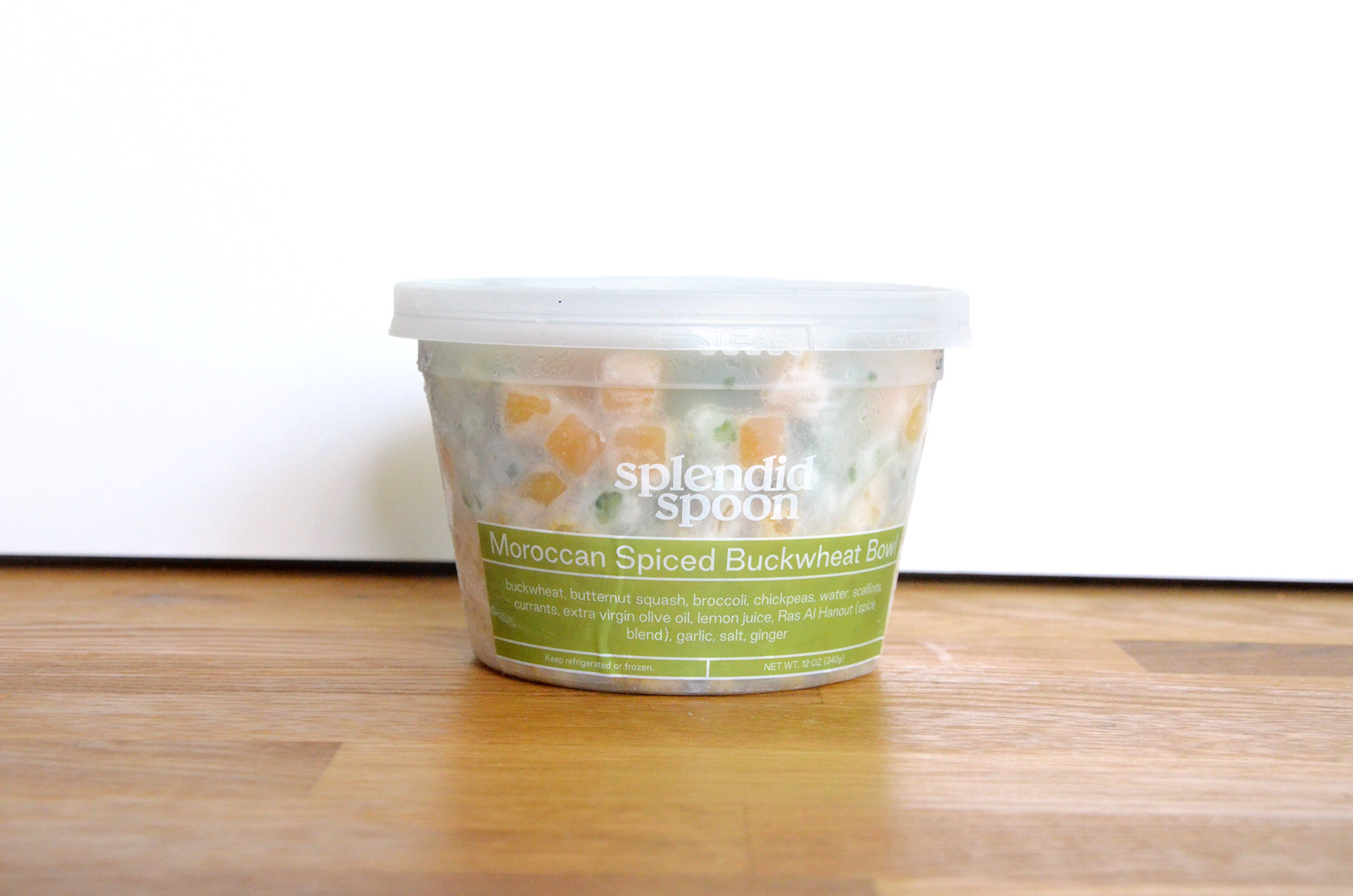 Moroccan Spiced Buckwheat Bowl
"A boldly spiced bowl with warming butternut squash and currants. BUCKWHEAT: Full of manganese to support a healthy metabolism; GREEN ONION: Packed with folate to keep the blues away; BUTTERNUT SQUASH: Reduces stress and regulates mood with Vitamin B6."
The ingredient list includes: Buckwheat, Butternut Squash, Broccoli, Chickpeas, Water, Scallions, Currants, Extra Virgin Olive Oil, Lemon Juice, Ras Al Hanout (Spice Blend), Garlic, Salt, Ginger
This bowl is so good! The buckwheat is kind of softer grain (almost mushy, but not in a bad way)
and the chickpeas add a nice variant to the base texture, even thought they are also a bit softer. The flavor is a little bit sweet with a warm hint of spice to it, definitely not too spicy for me though. I'd say the heat is a perfect level, but it does leave a little heat on the tongue so if you're super sensitive to spicy things, this might not be your favorite bowl. The broccoli and scallions add kind of a light bitter contrast to the sweet and heat, not to mention a bit of crunchy texture. They compliment the other ingredients so well. I don't always love butternut squash, especially on it's own, but in this bowl it works. I actually really like it and it adds a little nutty flavor. I ended up taking out the dried currants because I'm on a diet currently that allows no dried fruits otherwise would have left them in because they would really add a nice bit of sweetness to it too.
I forgot to thaw this one out so I cooked it stovetop from frozen, I would not recommend that although it's possible and doesn't affect the taste at all, it's just a lot more work. A warm bowl might seem to hit the spot most in the winter months, but this one actually makes me think of late evening summer dinners with the warm sunset and cool breeze. It's delightful It's filling and satisfying and I don't feel like it's missing a thing. I would definitely order this one again.
Orange Hibiscus Smoothie
"Sunshine in a bottle, minus the tan. ORANGE: Gets you glowing from the inside out; HIBISCUS: Brimming with heart-healthy antioxidants; MAQUI BERRIES; Balance blood glucose to even out energy."
The ingredient list includes: Purified Water, Bananas, Avocados, Organic Orange Juice, Organic Pea Protein, Organic Hibiscus Powder, Organic Maqui Powder, Organic Chia Seeds, Organic Flax Seeds, Himalayan Salt
Yum! This is a tasty and refreshing smoothie. I really love hibiscus tea so I was excited to try this flavor. Hibiscus tea is a bit tart and crisp, yet fruity and I'd say that it adds those same flavor profiles (although more subtle) to this smoothie. The orange adds texture that's a bit pulp-like which I don't mind at all. It of course adds a citrus flavor pop too. The overall texture of this one is pretty smooth, but does have those citrus bits in it. This one is flagged as being lower in sugar than some of the other options. I'm not too concern about natural sugars, but this one does seem to have about half the amount as many of the others. It certainly doesn't affect the taste or make it bland or anything. It's still very flavorful and not at all dull. This flavor seems like a pretty summery blend, but I hope it's a permanent option because I would definitely order this year round.
Detox Shot
"A plant-powered cleansing elixir from Mother Nature's medicine cabinet. Perfect for when you need a quick refresh. KALE: Iron, Vitamin K, A, and E – Kale really has it all; SPIRULINA: Jumpstarts endurance; LEMON: Purifies the body by boosting hydration."
Ingredients: Apple Juice, Lemon Juice, Aloe Juice, Kale Juice, Moringa, Spirulina
I actually reviewed this same product in last month's box but I thought I'd re-share my thoughts here too: Wow, this is so tasty! I honestly was expecting it to taste like grass or something, but it's really pleasant and left me wanting more. The overarching flavor comes from the perfectly balanced apple and lemon juice. It's tart, but the sourness is matched with a hint of sweetness so it's easy to sip or to take down in one gulp. There is a hint of green juice behind the fruity flavors, but I really enjoyed that element actually. Plus knowing that those ingredients pack a nutrient punch is awesome. They help to aid digestion, improve skin condition, balance gut bacteria and flush out toxins. These little shots are ultra convenient to take on the go and make the perfect snack companion or way to start of the day fresh. I would recommend trying and will definitely be ordering this one again.
Splendid Spoon Review July 2020 – Final Thoughts
Gosh, I just love my Splendid Spoon deliveries! Everything I try (even if I'm not so sure I'll like it) ends up being delicious and on point with the flavor and textures. I really love having the bowls as lunch options so that it keeps me from eating the same thing every day. It's the best not having to think about what to eat, yet knowing that my meal is well rounded and full of nutritious vegetables. The smoothies are an awesome snack option for me being a busy mom. I love the idea of making my own smoothies, but I have zero time for that so these really come in handy. If I were drinking the smoothies for a meal I'd likely drink the whole thing, but for snacking I often drink half one day and half the next so they last longer too. I've really been digging the special summer items and love that they showed up again this month. I have yet to review the Mint Chip smoothie, but it's definitely another fave! You can always choose the items you want in your delivery, but it's also fun to be surprised with the chosen weekly meals. That keeps things interesting and keeps your diet well rounded while encouraging me to try new things. It's been fun so far and I can't wait to see what next month's surprises are!
The Botanic Gal – http://www.botanicgal.com
Explore.
Save.
Enjoy!
Sign up for a free account on A Year of Boxes to receive exclusive offers, be added to our monthly mailing list, and much more! We are always adding features to improve the experience for our users, from their valuable feedback!
Join Today!