TEA PRAY LOVE Review November 2019
TEA PRAY LOVE is a wellness subscription box service that delivers artisan loose leaf tea, self-care books + journals, luxe skin care, and more every two months!
The bi-monthly wellness box is curated with three components in mind – TEA, PRAY, and LOVE. The LOVE component is fulfilled with luxe products to nurture your skin and care for your outer being. The TEA is then met by a satiating loose leaf blend to rejuvenate your body and soul. Last, but not least, the PRAY component is completed with a self-care book, guided journal, or affirmations to revive the mind and soul. It also includes surprise self-care items, such as scented candles and snacks.
There are three different price options for this box… $39.95 for the Premier Box (which is what I received), $29.95 for the Petite Box and $14.95 for the Tea Box. Use coupon code PREMIER40 to save 40% on your first Premier Box!
First Impressions
I loved the smell of this box the moment it showed up in the mail. It was the warm smell of inspiration and nature at it's finest. When I opened this pink box, I loved the gold TEA PRAY LOVE seal, followed by the natural box confetti. It gave earthy – yet still fun and girly vibes. When I think of tea, I think warm feelings and calm inspiration, and this box gave me all those feels.
On top when I opened the TEA PRAY LOVE box, I was greeted with descriptions and prices of everything I was about to unbox inside. I love it when boxes include these sheets, because it shows me how much value I'm truly getting for the money. If you love tea and self care, you will definitely find great value in this box. The company was also incredibly kind to share a coupon code for me to share with you. I included it with the prices above.
Gold Sheet Mask & Aveeno Peel Off Mask
Right on top of the box was a beautiful shimmering gold package, it was two sheet masks with colloidal gold made to nourish your skin. It felt very fancy to pamper myself in real gold. I really enjoyed finding items to pamper myself throughout this whole box. I was also excited to find a second peel-off mask inside from Aveeno, a brand I definitely recognized. The Aveeno mask was for detox and exfoliating, so it was nice that the two face masks helped your skin in different ways.
Back to Iceland Cleansing Water
Of course, if you are going to use a face mask, you'll need to have clean skin. I thought this Back to Iceland Cleansing Water was a unique find! With farm fresh ingredients, this nourishing face cleanser requires no rinsing at all. I will definitely be throwing this in my travel bag, what a great healthy find for on the go!
North Jetty Beach Tea
The tea inside this month's TEA PRAY LOVE box pulled at my heart strings. I was excited to see a beautiful bag of loose tea local to my area! This tea from Beach House Teas in Long Beach, WA is created just a few hours north of my home on the Oregon coast. The flavors and aroma of the tea really gave all of the vibes from this area. Filled with all organic local plants and herbs like blackberry, peppermint, lavender, bee pollen, rose hips and more! There's nothing quite like a relaxing tea that warms your soul like this one.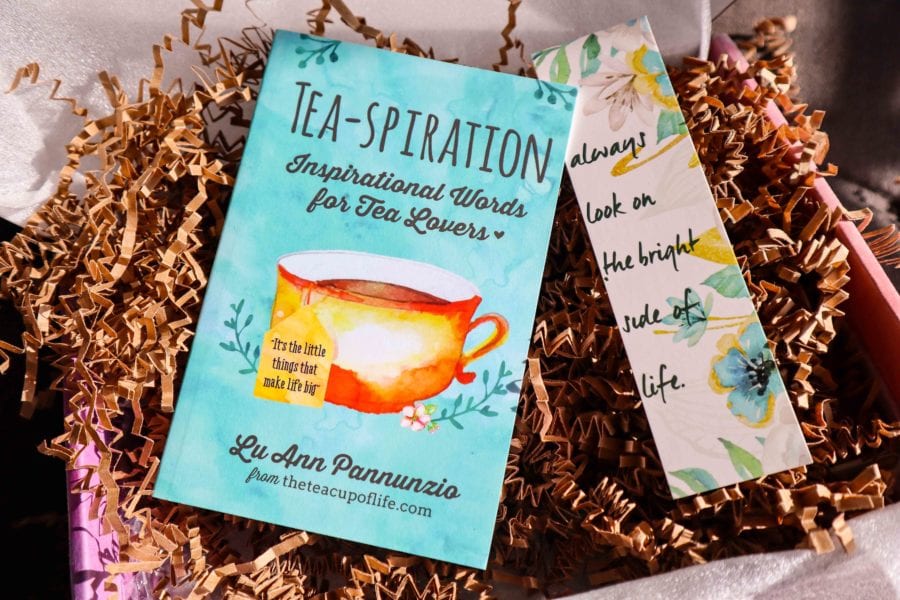 Tea-Spiration Book & Bookmark
The included book is a perfect read to go with your cup of tea. Filled with tea-inspired inspiration from author Lu Ann Pannunzio, this book is a great way to give your mind a little self-care as well. You can really get the full experience of relaxing, when you are both warmed up with a beautiful aroma of tea and can be inspired at the same time. The bookmark was also a sweet reminder to "always look on the bright side of life," as well as a great page holder so you can continue again where you left off the next day.
Made Good Granola Bar
A sweet treat like this Made Good Sweet & Salty Granola bar is another item I found in this box that will help feed your soul during your calm tea experience. This bar paired great with the tea in this box, and I thought it was neat that there were nutrients from vegetables in this bar too! I couldn't taste it one bit, it was very delicious!
Loofah Bar
The self care in TEA PRAY LOVE is incredible. The Framboise & Hibiscus Loofah Bar was possibly my favorite pampering item. The packaging was sleek and beautiful. I love the beautiful touch of the hand stamped wax seal. It smells amazing and I can't wait to get into the bath now!
Chai Tea Lip Butter
One of my favorite teas, is the classic Chai Tea. So I was extra excited to find a lip butter inside with this delicious flavor! Now I can have the essence of cloves, cinnamon and spice everywhere I go. Not only did it smell good, but the lip butter itself felt very hydrating and helped my lips feel smooth and nice. I may have just found my new go-to lip butter!
TEA PRAY LOVE Review November 2019 – Final Thoughts
This month's TEA PRAY LOVE box was amazing on so many levels. Not only was it an incredible value for the price, but it was the ultimate self care box for tea lovers. The quality of the tea and pampering products were very nice. The aromas and inspiration gave me good vibes and left me feeling calm and uplifted. I love boxes like this because it is a great monthly reminder to slow down and do a little self care, reflect and use all of your senses to enjoy the world around you.
Jamie – https://www.sparkleandgrow.com