The Crafter's Box Review March 2023
The Crafter's Box is a subscription service that aims to deliver a joyful crafting experience right to your doorstep by providing all the materials, tools, and expert instruction you need to complete each month's project. This subscription is perfect for those looking to explore new crafts, learn new artistic styles, or expand their personal creative boundaries.
They kindly sent us this box for review.
Subscription Details
Each The Crafter's Box is thoughtfully curated in collaboration with the featured artist or maker. Subscribers will receive high end materials and tools needed to complete the project, as well as access to the accompanying digital workshop and live/recorded Q&A chat led by the featured maker. Crafter's Box also hosts a marketplace where you can purchase past workshop kits, premium workshops, digital classes, and tools and supplies.
Subscriptions cost $65 per month with cost savings for those opting for longer term subscriptions. Boxes ship for a flat rate of $6.50 within the United States, $20 to Canada, and $30 internationally. The Crafter's Box is unique in that it offers subscribers the option to skip or swap out a box if the upcoming box theme is not of interest. Love this kind of flexibility in a subscription!
Gel Plate Printing
"Explore the art of printmaking as you create one-of-a-kind botanical prints with a gel plate and vivid inks. Join artist Michelle Whitehead as she demonstrates this fascinating craft, creating two prints from each leaf composition: a more saturated image and a second image using the residual ink. 'Gel printing is a form of monoprinting, meaning that each individual print created is unique and can only be made once.' shares Michelle. Throughout the workshop, you'll learn how to use a gel printing plate, inking brayer, and inking plate to make leaf prints with one or two ink colors."
I have never heard of gel plate printing before this. So, so excited to learn all about and try out this new-to-me craft!
Let's take a closer look at everything included in the box…
Each box contains a folded card describing the project and introducing the maker. It also lists all the materials inside the box, and any additional materials to have at home if needed.
The gel plate has a sensitive surface that allows you to imprint any texture that sits on it. This plate that is included is reusable, durable, and also easy to clean.
Inking Plate
The blue inking plate will allow you to get an even coat of ink to be applied to the surface of the gel plate.
Printmaking and Scrap Paper
A total of 5 sheets each of 8.5″ x 11″ printmaking paper and scrap paper is included. When making the prints, you will be cutting the sheets of paper in half, so this kit includes enough supplies to make 10 gel prints!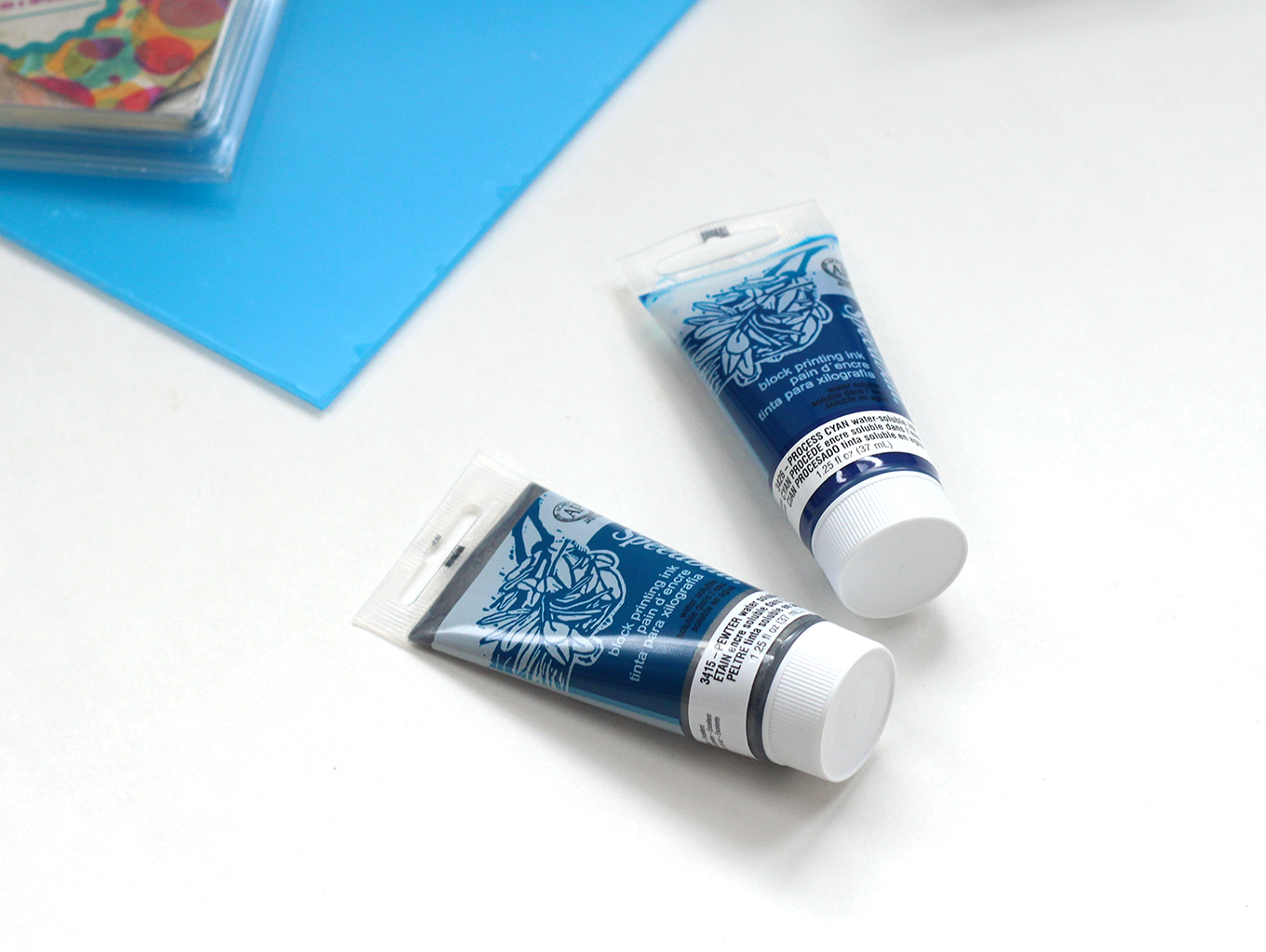 Block Printing Ink
This kit includes two ink colors. The workshop begins with teaching you how to create one color prints, and then moves on to incorporate the second color for different aesthetics.
Rubber Inking Brayer 2″
This will be used to thinly apply ink to your printing surface. It kinda reminds me of a mini paint roller. How fun!
In addition to the included supplies, you will need to collect leaves and foliage from the outdoors for your print. I love this aspect of it so much! Can't wait to go out and make this leaf collecting a fun activity to do with my toddler.
Final Thoughts
This is such a fun craft that is also rather straightforward to complete. I love that the end product is one of a kind. You can even use botanicals from places that hold special meaning to you to create a keepsake print. It will be nice to use the prints as greeting cards or journal ephemera. I think once I get the hang of it, I might even try out different paper and colour combinations. The possibilities are endless! Have you tried The Crafter's Box?
Toby & Rocket – http://www.tobyandrocket.com