The Crafter's Box Review May 2022
The Crafter's Box is a subscription service that aims to deliver a joyful crafting experience right to your doorstep by providing all the materials, tools, and expert instruction you need to complete each month's project. This subscription is perfect for those looking to explore new crafts, learn new artistic styles, or expand their personal creative boundaries. They kindly sent us this box for review.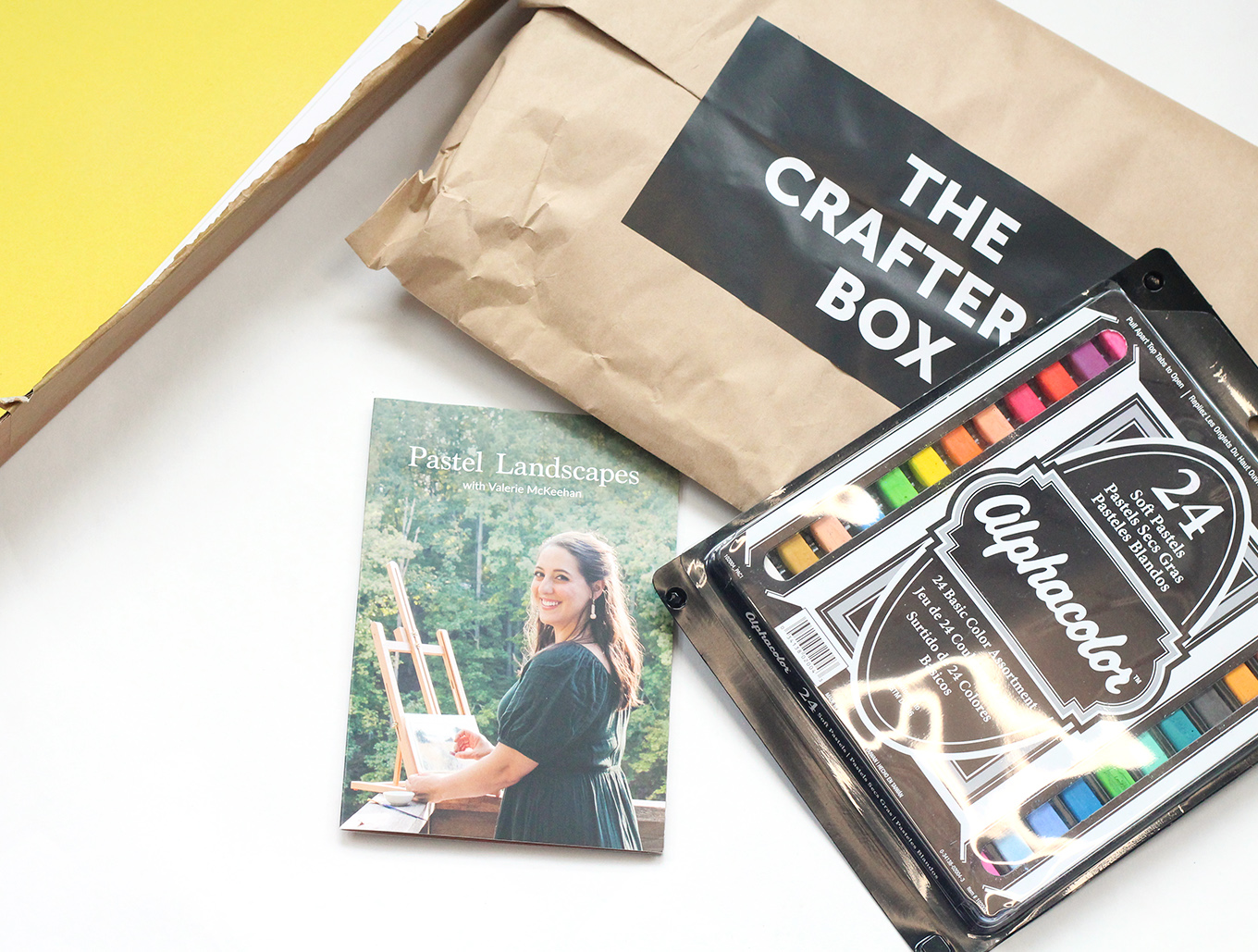 Subscription Details
Each The Crafter's Box is thoughtfully curated in collaboration with the featured artist or maker. Subscribers will receive high end materials and tools needed to complete the project, as well as access to the accompanying digital workshop and live/recorded Q&A chat led by the featured maker. Crafter's Box also hosts a marketplace where you can purchase past workshop kits, premium workshops, digital classes, and tools and supplies.
Subscriptions cost $65 per month with cost savings for those opting for longer term subscriptions. Boxes ship for a flat rate of $6.50 within the United States, $20 to Canada, and $30 internationally. The Crafter's Box is unique in that it offers subscribers the option to skip or swap out a box if the upcoming box theme is not of interest. Love this kind of flexibility in a subscription!
Pastel Landscapes
"Let's get our hands dusty as we create a whimsical wildflower landscape using soft pastels. Join Valerie McKeehan, artist and founder of Lily & Val, as she shares her expertise on soft pastel technique, landscape composition, and color theory. Unlike other forms of painting, soft pastels have minimal cleanup, no process to prepare or mix colors, and can be easily picked up again between sessions. Plus, this tangible artform allows a direct connection to the paper."
I am especially excited for this kit. I do watercolor painting occasionally, and have wanted to try other painting mediums. Can't wait to dive into this! Let's take a closer look at all the materials and tools:
Project Card
Each The Crafter's Box includes a folded card describing the project and introducing the maker. It also lists all the materials inside the box, and any additional materials to have at home if needed.
Soft Pastels
The kit includes a set of 24 soft pastels, with a good selection of colors to paint anything you desire. Loving all the colors in this set!
Hard Pastel Color Stick
The kit also includes 2 sticks of hard pastel. Hard pastels don't crumble or break as easily as soft pastels, and is included here for underpainting.
Fan Brush and Isopropyl Alcohol
A fan brush and bottle of 70% isopropyl alcohol are also included in this kit for underpainting.
Pastel Paper
Two sheets of 400 grit pastel paper are included. This paper will allow for wet underpainting and will grip the pastel pigment in place.
Foam Core Board
A piece of foam core board helps keep your art safely in place as you work.
Masking Tape
Masking tape is included to secure your painting to the foam core board, so that it stays in place as you work.
Line Drawing and Loosely Shaded Template
I love these templates and they are my favorite thing in the whole kit. They make the whole process so much easier (and faster!) for a total beginner like myself. The line drawing template has a color guide to help you along as well.
The Crafter's Box Review May 2022 – Final Thoughts
Absolutely loving this month's The Crafter's Box! It is a craft I have been wanting to try myself for quite some time now, so I am especially excited. I love that everything is included that you will need to create the wildflower landscape scene shown, down to the masking tape needed to secure the painting! Details like this make this show how much thought goes into putting this kit together. I am hoping to use these supplies and skills learnt here to create some more paintings of my own. For someone like me who likes to try out different crafts, this subscription makes it so easy and convenient. Definitely one worth checking out.
Toby & Rocket – http://www.tobyandrocket.com