Vegancuts Snack Box Review May 2020
Vegancuts Snack Box is your monthly delivery of the best vegan snacks and meal items on the market. Open the door to at least 10 vegan snacks to make vegan living easier than ever before. Sweets and savories, beverages and mealtime helpers, this box has a variety of products to satisfy the most discerning snackers.
Their focus is on curating a monthly Snack Box packed with yummy vegan snacks but typically about 80% of the snacks are gluten free. They also include many snacks that are non-GMO project verified, certified organic and made with healthy ingredients. They kindly sent us this box for review.
Subscription Details
There are four subscription plan options for Vegancuts Snack Box:
$24.95 (US), $31.90 (CA), $39.90 (International) for a month-to-month subscription
$74.85 (US) & $95.70 (CA) for a 3 month subscription
$134.70 or $21.25/mo (US) & $176.40 or or $29.40/mo (CA) for a 6 month subscription
$258.60 or $20.75/mo (US) & $342 or $28.50/mo (CA) for a 12 month subscription
Shipping is free for US customers. For international customers, shipping is included in the cost of the box. Boxes ordered before the 10th of the month ship by the 17th and boxes ordered between the 10th & 25th ship on the 26th.
May Box Details
"This Snack Box theme is Clever Classics: Innovative takes on old favorites! These days, we're finding ourselves constantly changing, adapting and making the best of what we have. In that spirit, we thought what better time than now to celebrate clever takes on classic favorites? From Outstanding Foods' Pigless Pork Rinds to RightRice made from veggies, we've partnered with innovative brands to make your May Snack Box the creative inspiration you've been looking for. Featuring PURPO cereal cups (made with purple sweet potato!) and a soft-baked Chocolate Chip Cookie+ Protein, this month's haul may be your favorite thing about spending more time at home. Nothing is easy these days, but we at Vegancuts are still working tirelessly to bring you the yummiest, snackiest vegan discoveries possible – with a total of 11 in this month's box!
Also, this month's brand partner, which a portion of proceeds go toward, is the lowa Farm Sanctuary!"
Here's a look at what's in the May Vegancuts Snack Box:
Rise Brewing Co. Mixed Assortment of Dark, Mocha or Oat Latte
"Creamy, sweet and refreshingly smooth coffee."
This sounds really delicious, but unfortunately I don't drink coffee so I'll have to pass this one to my husband. Out of the three possible options, I got the Oat Milk Latte so it's a dairy free Nitro Cold Brew Coffee blend. There's no sugar added and the ingredients are all organic. This would be a convenient and quick morning perk up for sure.
Outstanding Foods Texas BBQ Pigless Pork Rinds
"Can't believe something this delicious contains protein!"
I've never really been a fan of pork rinds, but a pigless version intrigues me so I'll still try these out. It looks like they recreate the texture and flavor with pea protein and pea grits along with BBQ seasoning. I love BBQ chips so these likely are really tasty and crispy and a fun snack to try.
Bake City USA Chocolate Chip Cookie+ Protein
"A soft-baked chocolate chip cookie full of plant-powered energy."
A protein cookie? Sounds too good to be true! But it also sounds delicious and like a fun treat to try. It of course is made with sugar (and quite a bit of it too), but would be a good treat to have every once in awhile. It has 12g of protein from faba bean, so it really packs a protein punch. It feels like it's soft and probably has a chewy texture. Yum!
GoMacro Double Chocolate + Peanut Butter Chips MacroBar
"These peanut-butter chips are giving us life!"
Chocolate peanut butter is one of my favorite flavor combinations so this is probably really tasty. It's a high protein snack bar that has 11g of protein. It's made with peanut butter, peanut butter chips, cacao powder and chocolate chips for extra choco/pb flavor. It says it's a new flavor on the packaging so that's fun. Looking forward to trying this one out.
Beviva Foods PURPO All-in-one Cereal Cup
"Sweet and fruity start to the day – No plant-milk needed."
This is a really interesting product – it's an all in one cereal with a mylk blend included right in with the granola. The mylk powder is made with oats, purple sweet potato, prebiotics and probiotics. The granola is made with things like purple sweet potato, rice and dried fruits and coconut. The ingredients have antioxidant and anti-inflammatory properties and help with digestion. It sounds delicious and like a good way to start the day!
Soulfull Project Hearty Grains and Seeds Cereal
"Perfectly paired with Joolie's Dates for overnight oats!"
This is a simple and healthy grain cereal made with rolled oats, red quinoa, chia and flax. It's meant to be eaten like an oatmeal, but has extra nutrients packed in. There is no sugar added, just the grains above. A cool thing about this company is that for every serving purchased they donate a serving of their 4 Grain cereal to a food bank in your region. Love that! And I'm sure this cereal would make for a great and filling breakfast.
Unisoy Jerky in either Black Pepper, Teriyaki, or Spicy
"Packed with flavor and enjoyably chewy."
I've never tried vegan jerky before so this will be interesting to test out. Out of the three options available, I received the Teriyaki flavor in my box. I like that flavor profile and I'm sure it adds interest to the taste. It looks and feels like jerky would so I'm guessing the texture will be similar too. This could be a quick and good savory snack option.
Miracle Tree Tea Superfood Infusion Cherry Tea
"Abundantly aromatic and super-caffeinated morning-time tea"
Cherry tea sounds so delicious! I unfortunately don't drink caffeine so I probably won't try this one out but I bet it's a tart and sweet tea that's refreshing and makes for a good perk up. It says it's super caffeinated, so it's probably a good morning beverage.
Joolies Pitted Date Snack-Pack
"Eat straight from the box or add to your favorite sweets & salties."
I've eyed these little date snacks before and have wanted to try them out. Maybe because their packaging is so cute, but also because dates are a great natural sweet treat to help curb sugar cravings. These are organic and just simply dried dates. They are a great source of vitamins and fiber and are said to give a boost of energy. This little 3-pack is perfect for packing in a lunch or for on-the-go.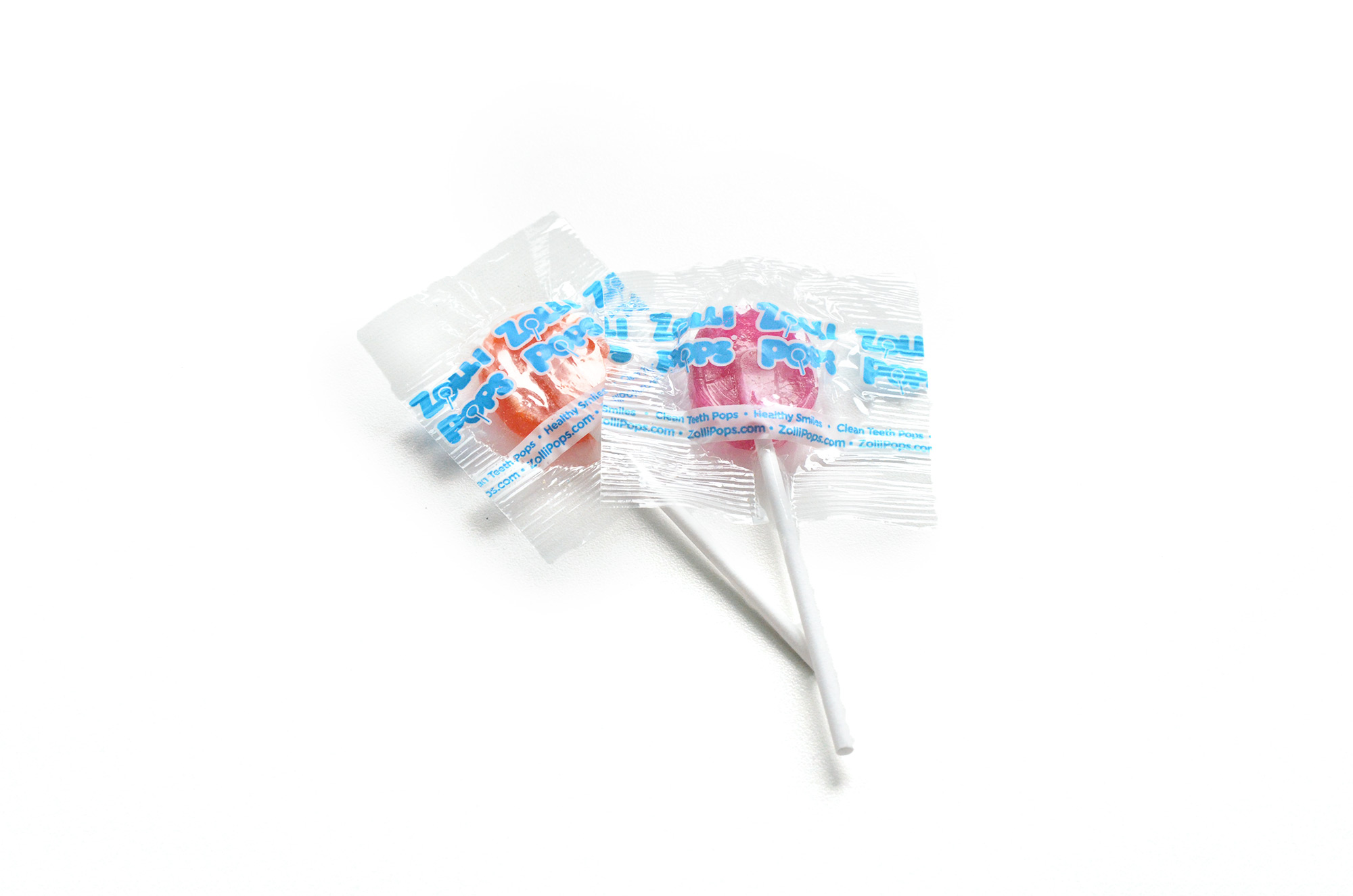 Zolli Candy Zollipops
"Healthy lollipops that taste great AND are good for your smile!"
I've seen these lollipops before and they've intrigued me. They are made with erythritol and xylitol which naturally raise the pH in your mouth after eating which helps reduce the risk of tooth decay. They are sweetened with just stevia and their color comes from vegetables. I received an orange and maybe a raspberry one, both good flavors. It seems like eating a lollipop after eating is the opposite of what you should do, but it's a really interesting concept and I'm curious to test them out.
Lemon Pepper RightRice
"The best dinner addition. Visit the link below for the recipe!"
I love lemon flavored anything so I'm sure this will be tasty. I didn't even realize it wasn't rice when I first glanced at this. It's actually a rice-like dish that looks like rice that's made with lentil, chickpea and rice flours adding nutritional value including protein and cutting down on the net carbs. I'm all for anything that's quick to make and has a tasty flavor so this will be a great lunch or a side with dinner.
Vegancuts Snack Box Review May 2020 – Final Thoughts
What a great mix of interesting goods in this month's Vegancuts Snack Box! There's snacks, sweets, meal items and a beverage. All the things you need for a day stuck at home so this box has you covered for quarantine. The theme for this month's box is a fun one too as it's all about jazzed up classic foods. They did a great job finding unique items that are reminiscent of tried and true favorites like a chocolate chip cookie (but with added protein), a warm and hearty oatmeal breakfast (but with added sweet potato and oat milk) and a rice side dish (but that's actually made with vegetables). All fun items to test out for sure!
The Botanic Gal – http://www.botanicgal.com
Explore.
Save.
Enjoy!
Sign up for a free account on A Year of Boxes to receive exclusive offers, be added to our monthly mailing list, and much more! We are always adding features to improve the experience for our users, from their valuable feedback!
Join Today!