Vellabox Review April 2022
Vellabox delivers all-natural, artisan-made candles to your door every month. Unbox your escape to relaxation and enjoy high quality candles made by America's finest small-batch makers. Every candle found in Vellabox is made with 100% soy or coconut wax, premium fragrance oils, lead-free cotton wicks, and never contains artificial coloring additives. A team of experts curate the best scents for the time of year, so your home always smells in season. They kindly sent us this box for review.
This month was extra special because my Vellabox deliveries arrived back to back. Being in Canada I always receive my boxes a little later than most, as was the case with my March box, but the April box arrived early……it feels like Christmas!
Subscription Details
A team of Vellabox experts curate the best scents for the time of year, so your home always smells in season. Box options range from 25 to 100 hours of total burn time, depending on your monthly candle burning habits.
Vellabox has 3 subscription options to choose from.
Lucerna ($18) – 4oz candle + surprise bonus gift
Ignis ($28) – 8oz candle + surprise bonus gift
Vivere ($38) – 16oz candle + surprise bonus gift
Here's a closer look at the April Vellabox. We are reviewing the Vivere box which features a 16 oz candle…..
April Candle Partner: HYDE NOR HARE
Their candles are free of toxins, phthalates, additives, dyes or environmentally harmful packaging. HYDE NOR HARE scents are inspired by nature and they donate 5% of their profits to JP Farm Animal Sanctuary in Connecticut!
Candles: Subscribers received one of three different scents…..
Santino (for fans of woodsy) – notes of palo santo, warm amber and musk
Camellia (for fans of citrus + herbal) – notes of white tea, mandarin, ginger and jasmine
Rain water (for fans of floral) – lily of the valley, green leaves, ozone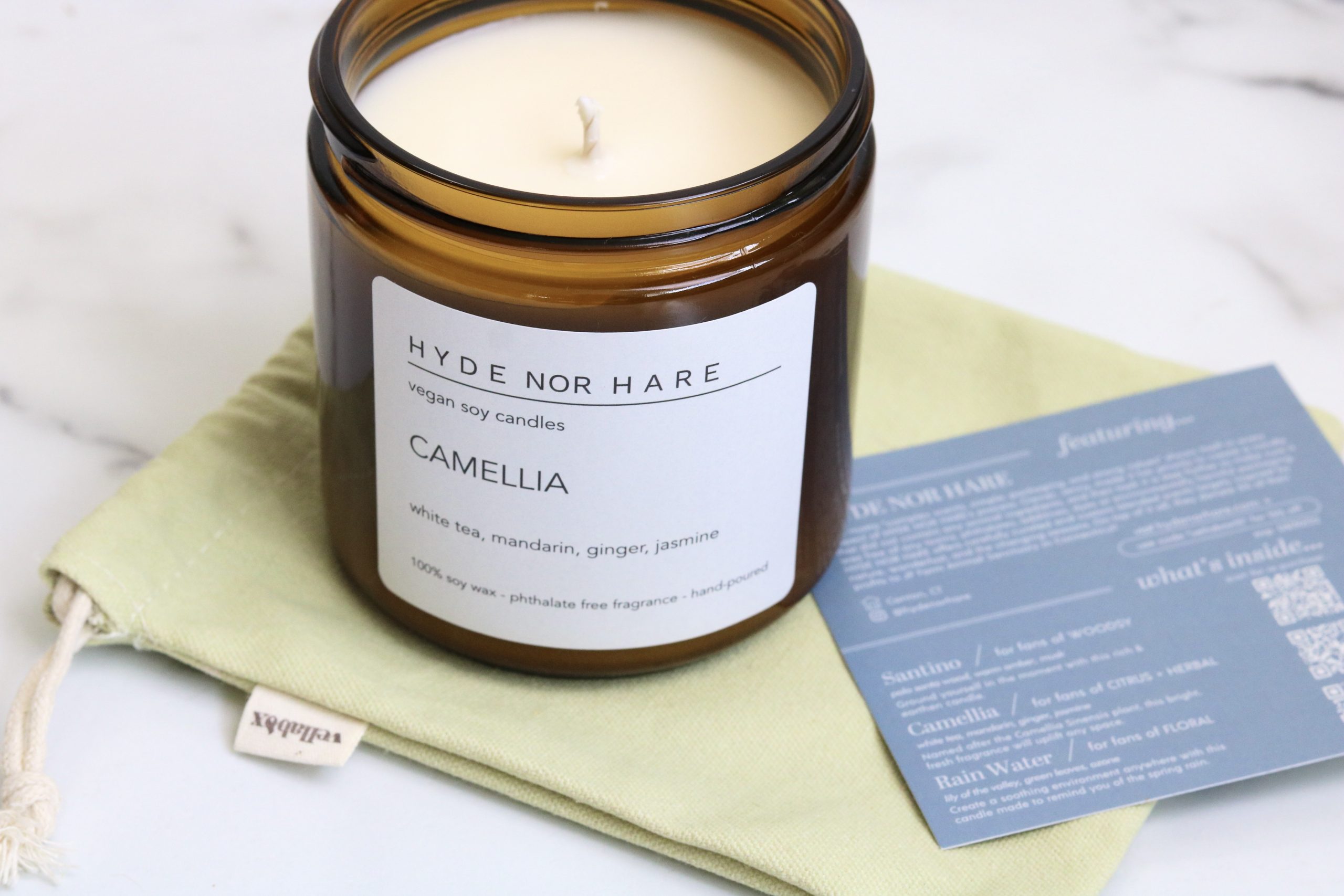 Camellia: I received a lovely citrus/herbal scent called Camellia. Named after the Camellia Sinensis plant, it says that this bright, fresh fragrance will uplift any space.
April Gift: Propagation Cone
In an effort to cut down packaging waste, reuse your Vellabox candle jar for the home of your next plant propagation!
Follow the instructions on your box card to get started. Plus the cone fits over all 3 of our candle sizes!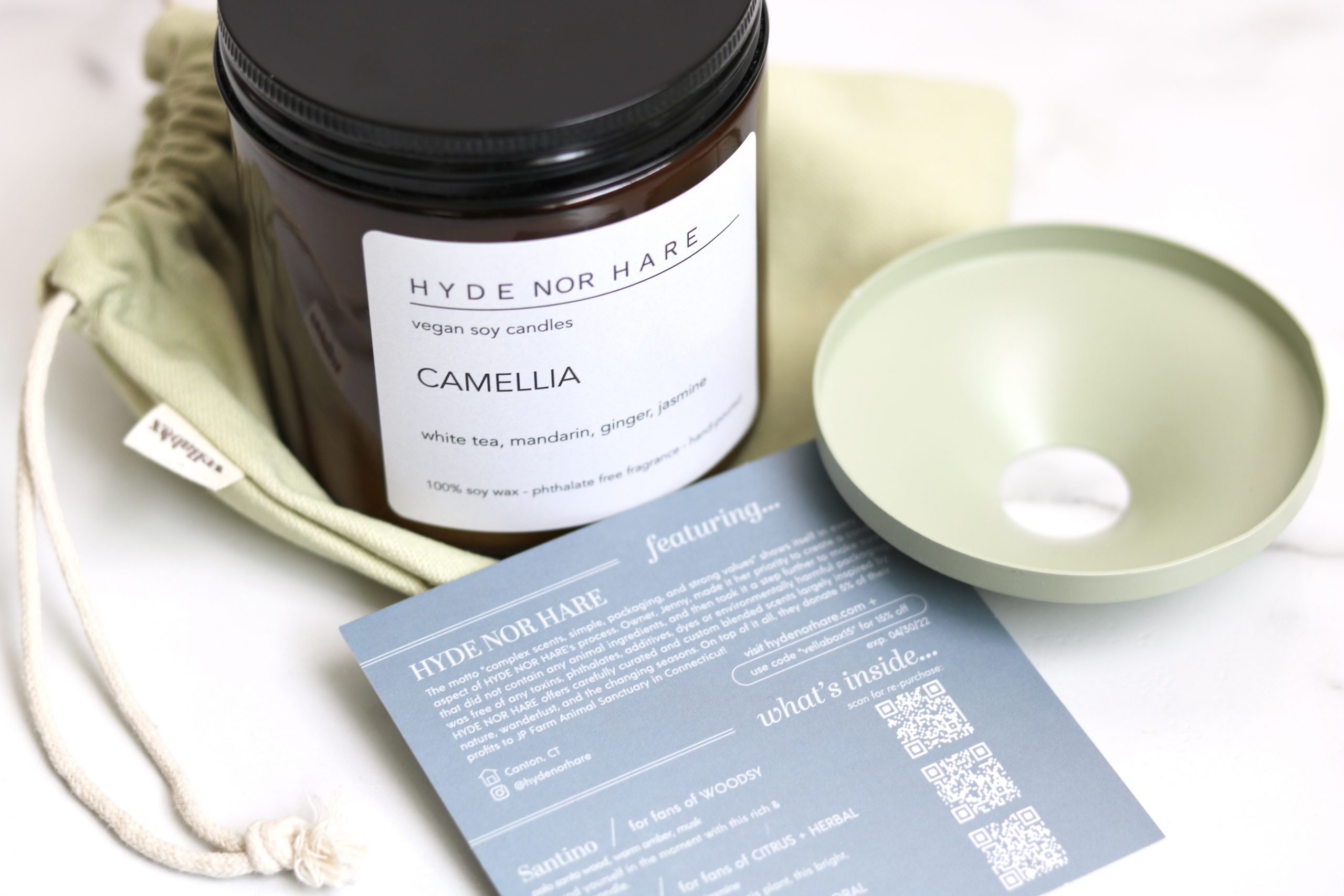 Vellabox Review April 2022 – Final Thoughts
The April Vellabox is absolutely lovely and how great is the bonus gift! I love that it is an accessory that can be used with old Vellabox jars. This is a genius idea! I would love to see more bonus products like this in future boxes and more instruction cards with ideas on how to reuse/recylcle our jars once we are done with them. The candle itself smells SO pretty and is absolutely perfect for Spring. It would make such a great Mother's Day gift thanks to the beautiful floral scent. Vellabox is one of my "can't live without" subscription boxes!
-AYOB Sarah