Vellabox Review February 2023
"I like my candles like I like my people — non-toxic."
Vellabox is a subscription that sends you a scented candle every month plus a surprise gift from a natural lifestyle brand. All of the candles are made in small batches with 100% soy or coconut wax, top-quality fragrance oils and lead-free cotton wicks. The candle you get is chosen with your favourite fragrances in mind, which you indicate in a questionnaire when you sign up. Really it's the best of both worlds — you get a candle you'll like and the element of surprise. Here's my Vellabox for February.*
*They kindly sent us this box for review.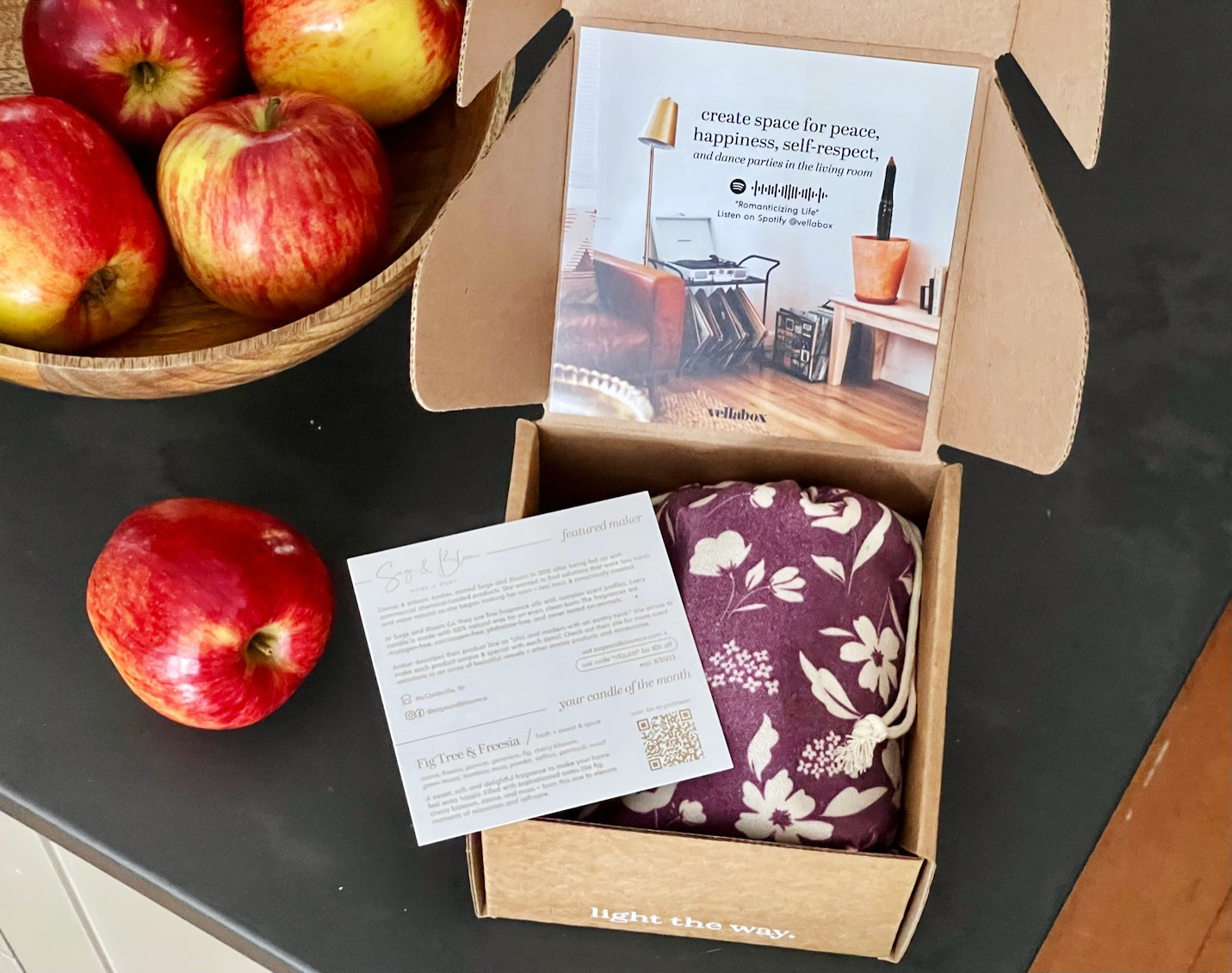 Vellabox offers three subscription options:
The Lucerna Box · One 4 oz candle (40+ hours burn time) + one surprise gift from $12/month
The Ignis Box · One 8 oz candle (80+ hours burn time) + one surprise gift from $22/month
The Vivere Box · One 16 oz candle (100+ hours total burn time) + one surprise gift from $29/month
"Create space for peace, happiness, self-respect, and dance parties in the living room."
— Vellabox
Monthly, 6-month and 12-month subscriptions are available. Shipping is free on all US orders and shipping to Canada is $5/month.
Mine is the Vivere Box.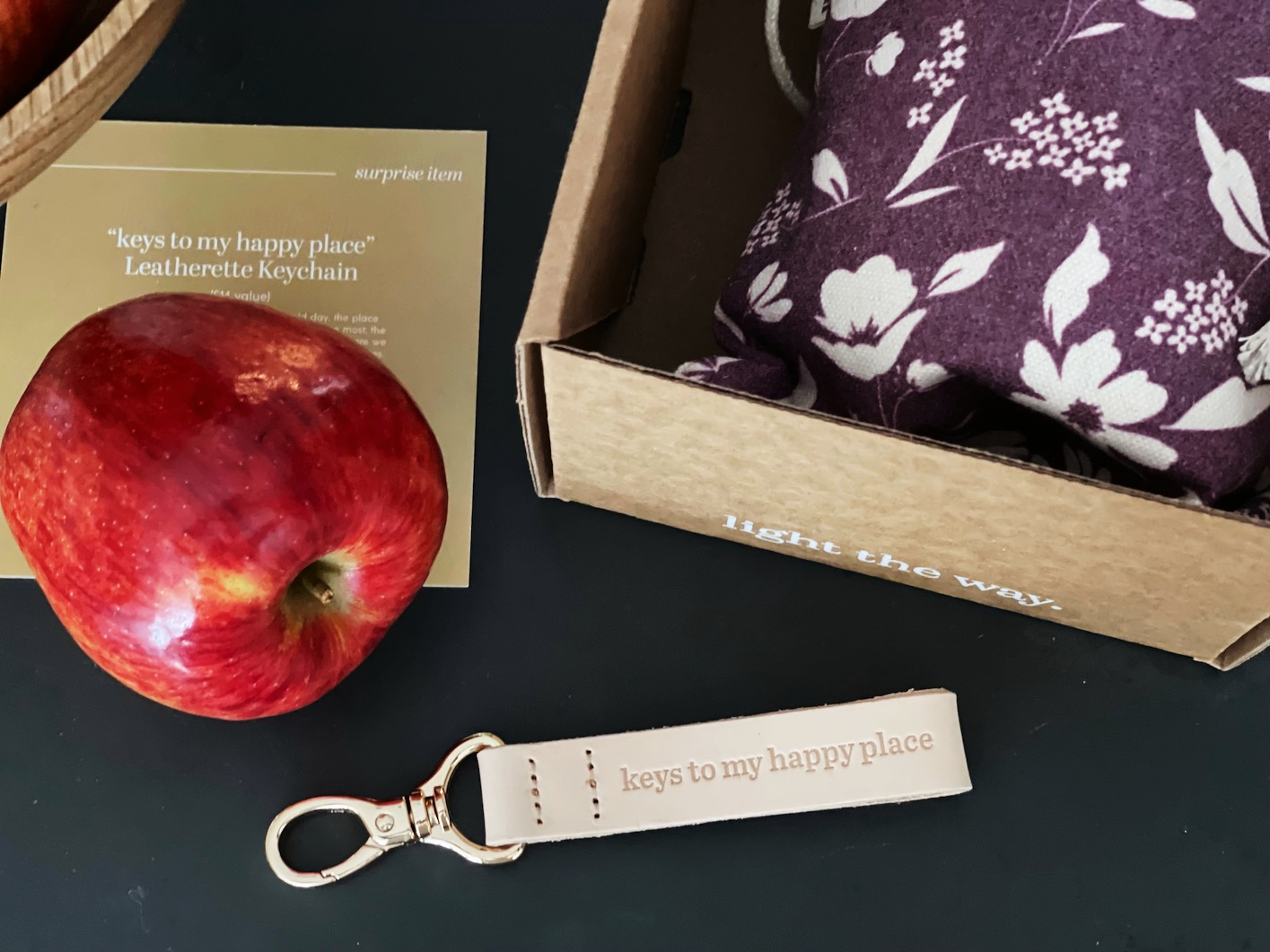 Normally I'd show you the candle first but I love February's surprise gift just as much. It's this vegan leather "keys to my happy place" keychain and it's kind of perfect.
"It's the place that keeps us warm on a cold day, the place where we spend quality time wth the ones we love most, the place that gives us room to learn and grow, the place where we build memories, the place where we can be our truest selves. Home is our happy place."
If you've been following for a while you'll know we moved last summer after nearly 20 years in our first home. Despite a few upsets with our new house — a tub that leaked through the kitchen ceiling days after we moved in, water in the basement New Year's Eve, a few lights that turn on and off at random (haunted? LOL) — it's my happy place for sure. We've got great friends just steps away, loads more space to make memories and laundry on the second floor, which I never realized I'd like so much, ha ha. (Way better than trekking down to a dingy basement.)
Past surprise gifts have included reusable cotton rounds for removing makeup, tea, recipe cards and even perfume but I think the keychain is my favourite. It's really well made and the sentiment is bang-on.
Vellabox features different artisans each month. February's candles are by Sage & Bloom of McCordsville, Indiana. Mine is called Fig Tree & Freesia.
"A sweet, soft, and delightful fragrance to make your home feel extra happy. Filled with sophisticated notes like fig, cherry blossom, ozone, and moss — burn this one to elevate moments of relaxation and self care."
Fig is one of my favourite scents and I love it here with the floral notes. It's well-balanced, more complex than the woodsy candles I've been using. I've been burning it for a few hours pretty much every day since it arrived and the wax is about halfway down the jar so it'll last about a month. If you like burning candles daily, the Vivere Vellabox is the way to go.
What else can I tell you? Vellabox ships your first box immediately and subsequent boxes the second week of every month. (My March box just arrived so their delivery is right on time!) Custom and pre-made gift boxes are also available for shipping across the US.
Have you tried Vellabox?
Try Small Things – https://trysmallthings.com