Vellabox Review March 2022
Vellabox delivers all-natural, artisan-made candles to your door every month. Unbox your escape to relaxation and enjoy high quality candles made by America's finest small-batch makers. Every candle found in Vellabox is made with 100% soy or coconut wax, premium fragrance oils, lead-free cotton wicks, and never contains artificial coloring additives. A team of experts curate the best scents for the time of year, so your home always smells in season. They kindly sent us this box for review.
It's funny how something as simple as a candle can make me so darn happy. I absolutely LOVE my Vellabox deliveries and would highly recommend this subscription to anyone who loves candles. I burn them almost daily so I find a ton of value in this box.
Subscription Details
A team of Vellabox experts curate the best scents for the time of year, so your home always smells in season. Box options range from 25 to 100 hours of total burn time, depending on your monthly candle burning habits.
Vellabox has 3 subscription options to choose from.
Lucerna ($18) – 4oz candle + surprise bonus gift
Ignis ($28) – 8oz candle + surprise bonus gift
Vivere ($38) – 16oz candle + surprise bonus gift
Here's a closer look at the March Vellabox. We are reviewing the Vivere box which features a 16 oz candle…..
Luxury Perfume With Case ($32)
This is a surprise item like we've never done before. This month, we're collaborating with Scentbird to pair a perfume with your candle, complementary to the scent. Receive one of five fragrances in your box. 
Subscribers could have received the following scents:
Get a Room
Scarlet
Javan Rhino
Vaquita Dolphin
Amur Leopard
I am very familiar with Scentbird as they have their own subscription and I have reviewed it in the past. Each vial comes in its own Scentbird perfume case in a surprise color. 
Candle – Fresh Linen
It's the beginning of a new season & the perfect time to start fresh. Let this be a sign to get to spring cleaning, then light your Fresh Linen candle when it is all done. 
Subscribers could have received one of four different scents in the March Vellabox. 
Penthouse
Fresh linen
Nightfall
Love Affair
I am extremely happy with mine because I am ALL about Spring cleaning right now. It has notes of ozone, jasmine, rose, lily, and woods.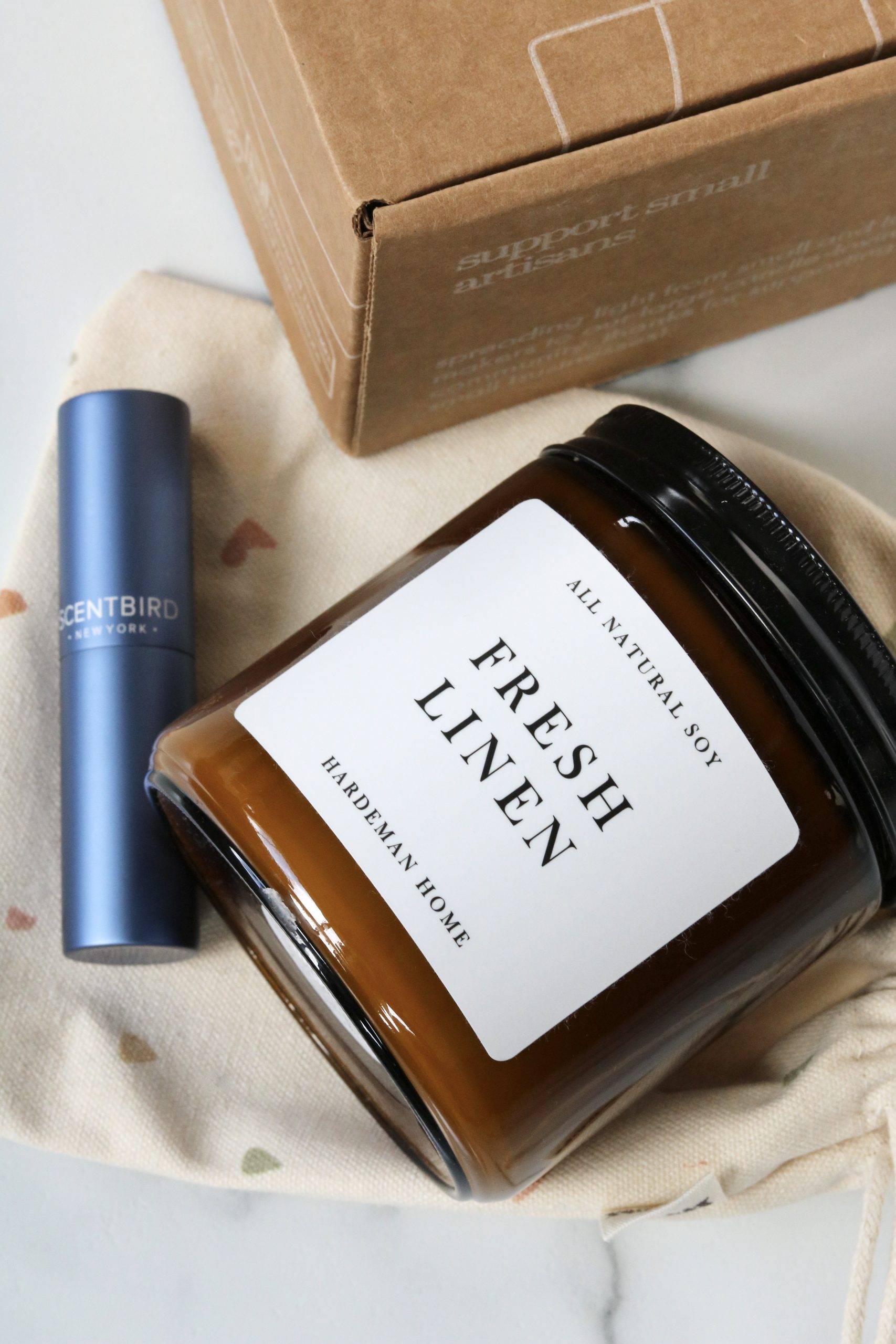 Vellabox Review March 2022 – Final Thoughts
I love, love, love the March Vellabox! It brought with it an amazing, high-value, bonus item and a candle perfectly suited to the current season. I love that I received Fresh Linen as it makes me even more excited to continue with my Spring Cleaning and closet organizing. I will light it each time I get out my cleaning products or organize a drawer. Vellabox is such a lovely subscription and it would also make an amazing gift.
-AYOB Sarah