Vellabox Review May 2023
Vellabox is a monthly subscription that sends you a scented candle and a small surprise gift. All of the candles are made in small batches with 100% soy or coconut wax, primo fragrance oils and lead-free cotton wicks. The candle you get is chosen with your favourite scents in mind, which you indicate in a questionnaire when you sign up. Fun, right? Here's a look at May's delivery.*
*They kindly sent this box for review.
Vellabox offers three subscription options:
The Lucerna Box · One 4 oz candle (40+ hours burn time) + one surprise gift from $12/month
The Ignis Box · One 8 oz candle (80+ hours burn time) + one surprise gift from $22/month
The Vivere Box (that's mine!) · One 16 oz candle (100+ hours total burn time) + one surprise gift from $29/month
Monthly, 6-month and 12-month subscriptions are available. Shipping is free on all US orders and shipping to Canada is $5/month.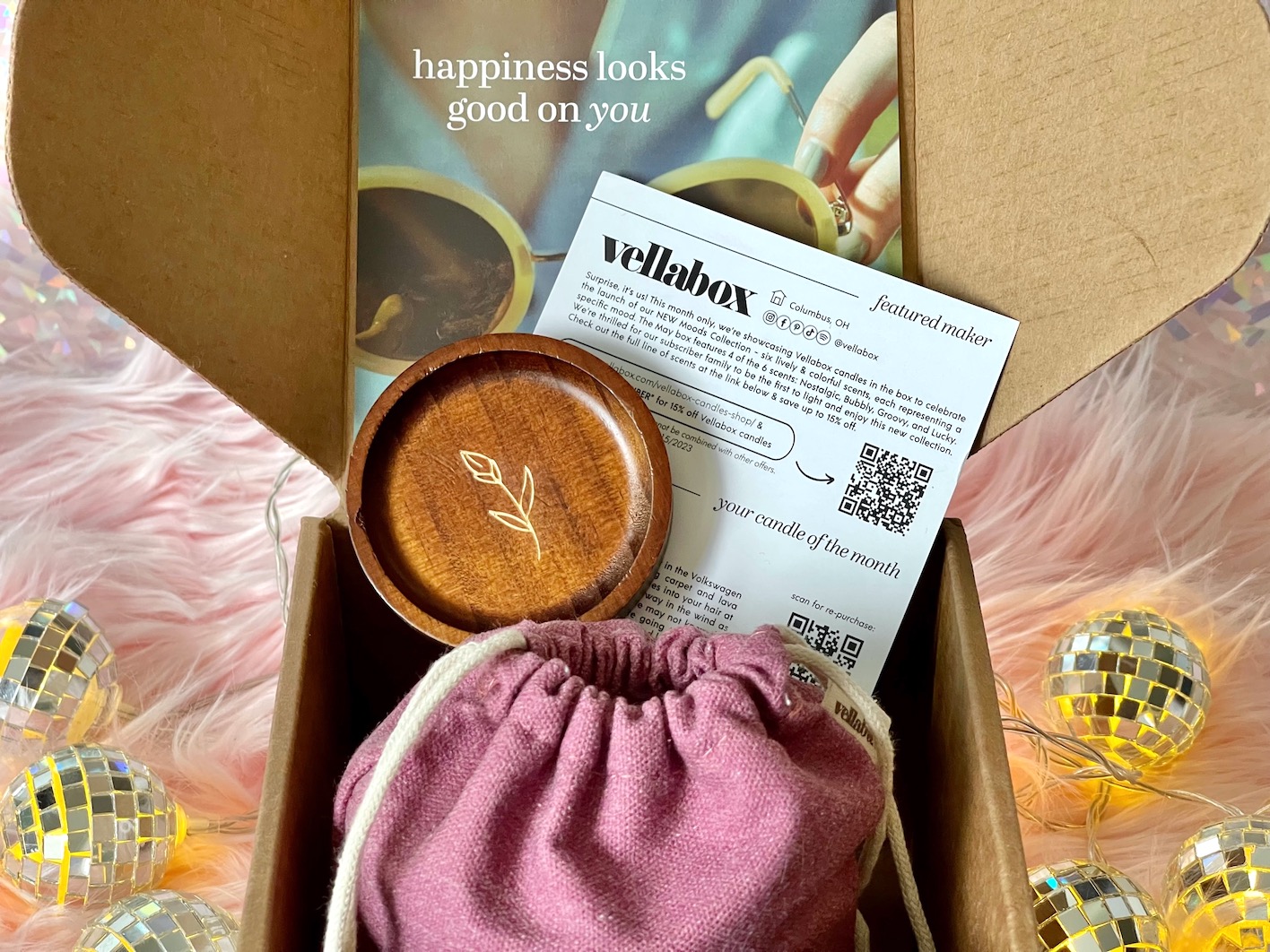 May's surprise gift is a wee wood trinket tray. So sweet and useful!
"A cute little dish for cute little things. Perfect for a nightstand, coffee table, by the sink, or any other accessible spot in your house to keep tabs on your most frequently used items like rings, hair accessories, headphones, chapstick and more."
Vellabox features a different candle maker each month but for May the co. debuted its new Moods Collection. Four of the six scents went out to subscribers: Nostalgic, Bubbly, Lucky and Groovy.
Mine is Groovy, formulated for fans of floral scents (which I am, when they're not overpowering). With notes of daisy, light berry, cashmere and musk it's like a spring daydream, feeling light as air in a sheer floaty dress on a warm, sunshiney day. Carefree. Playful. Romantic.
"Headed West, cruising down the highway in the Volkswagen Transporter — equipped with orange shag carpet and lava lamps for the vibes. You braid wild daisies into you hair at the last pit stop, and now they dance away in the wind as you lean your head out the window. We may not know the destination, but we do know there are going to be great times along the way. It's all about peace and love, my friend."
Bonus! — Light your candle and listen to Feeling Groovy, the Spotify playlist Vellabox curated for May. (It's kind of perfect.) It's just over two hours, roughly how long you should burn your 16 oz candle to prevent tunneling. (Smart, eh?)
How much do we love?! I get so much joy from my Vellabox. 😁The candles burn for-evah and feel so luxurious and the surprise gifts always get used. I like the minimal packaging too. The reusable cloth bag protects the candle and cushions the other contents from damage and the box can be repurposed or recycled easy peasy. Groovy, right?
Have you tried Vellabox? What do you think?
Try Small Things – https://trysmallthings.com