Vellabox Review November 2020
Vellabox delivers all-natural, artisan-made candles to your door every month. Unbox your escape to relaxation and enjoy high quality candles made by America's finest small-batch makers. Every candle found in Vellabox is made with 100% soy or coconut wax, premium fragrance oils, lead-free cotton wicks, and never contains artificial coloring additives. A team of experts curate the best scents for the time of year, so your home always smells in season. They kindly sent me this box for review.
I feel like I just received my October Vellabox and now my November box is here. What a great surprise! Candles are my jam this time of year. I have one going almost daily. Like today, for example, I am sitting beside my Christmas tree as I write this review with the pumpkin spice candle from last month's box burning beside me. The October Vellabox was my favorite to date, but the November box is a very close second.
Subscription Details
Vellabox has 3 subscription options to choose from.
Try the Lucerna for $10 / month (4 oz candle), the Ignis for $20 / month (8 oz candle), or the Vivere for $30 / month (4 + 8 oz candle).
For more fun, you'll also receive a bonus gift in each box from a natural lifestyle brand in all box sizes.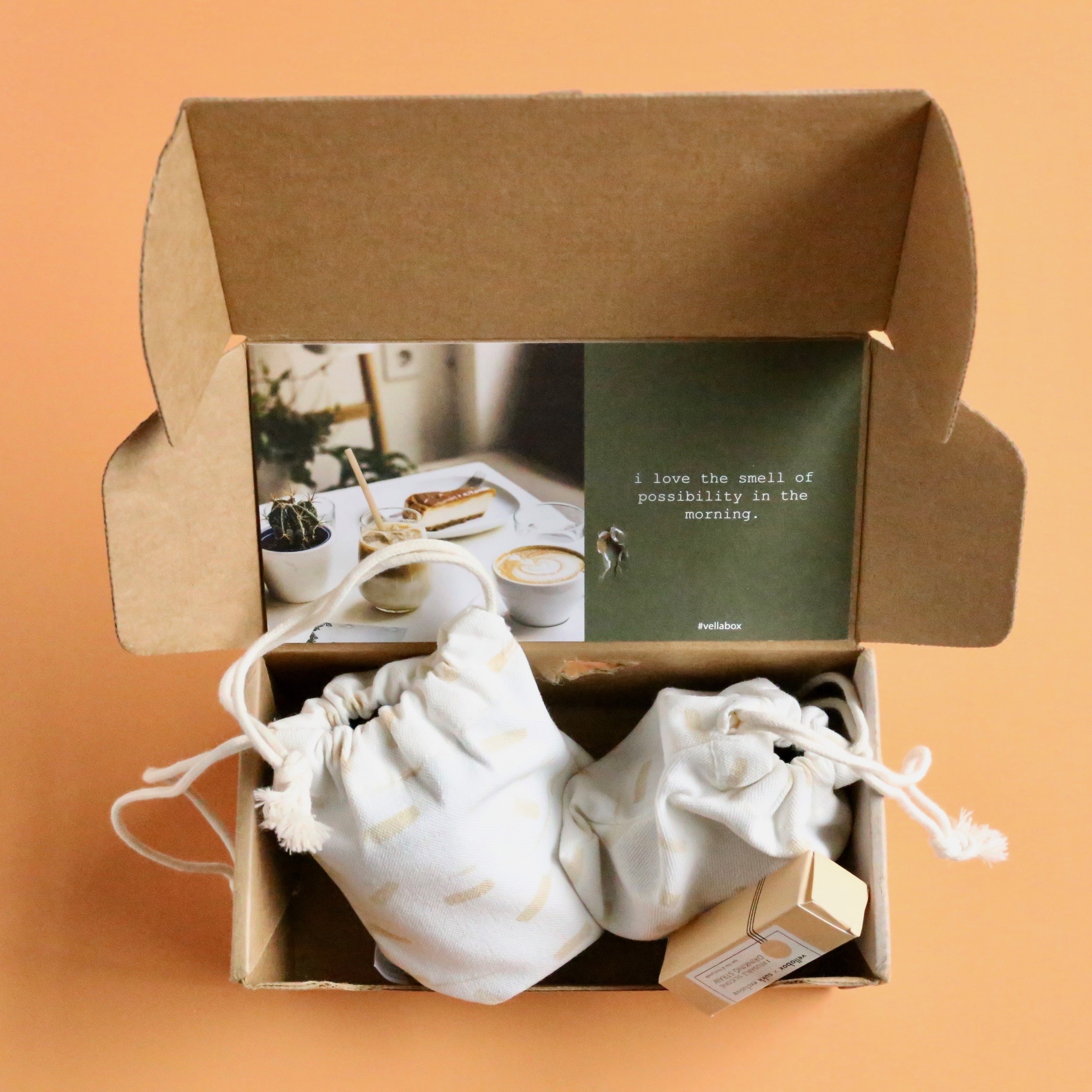 Here's a closer look at the November Vellabox. We are reviewing the Vivere box which features a 4 oz candle and an 8 oz candle…..
November Maker – Bookend Candle Co.
Bookend Candle Co. offers 100% soy candles with cotton wicks and without dyes or phthalates. Each candle has been lovingly hand-poured, and each fragrance, personally curated and blended. All of their products are vegan and cruelty-free. They keep their use of plastics at a minimum and supplies as environmentally friendly as possible.
Bonus Item – Silicone Straw
Two brands passionate about the environment, Vellabox and Sukk teamed up to create this custom straw for Vellabox subscribers. Use it in your iced latte, cocktail, or any beverage you prefer to cut down on plastic waste because drinking with straws is just better.
What a great little bonus item this month. It's right up there with the produce bag from the July box. I love to receive any sort of environmentally friendly product, and the description is spot on, drinking with straws is just better!
Coffee House
Notes: coffee, hazelnut, sweet cream
It's a brisk morning and you're off to your favorite coffee house on the corner. The aroma of fresh brewed coffee hits you in the face as you swing open the door and you see your favorite table by the window open up. The warm mug in your hands sends a calming sensation through your body. It's your morning ritual, your time to reset before life starts back up again.
Oh my goodness! This candle is SO good! I was kind of sad that it wasn't holiday-themed but the moment I smelled this coffee scent the sadness went away. I happen to LOVE the smell of coffee so this candle is speaking to my heart. How great will this be while enjoying an early morning reading session?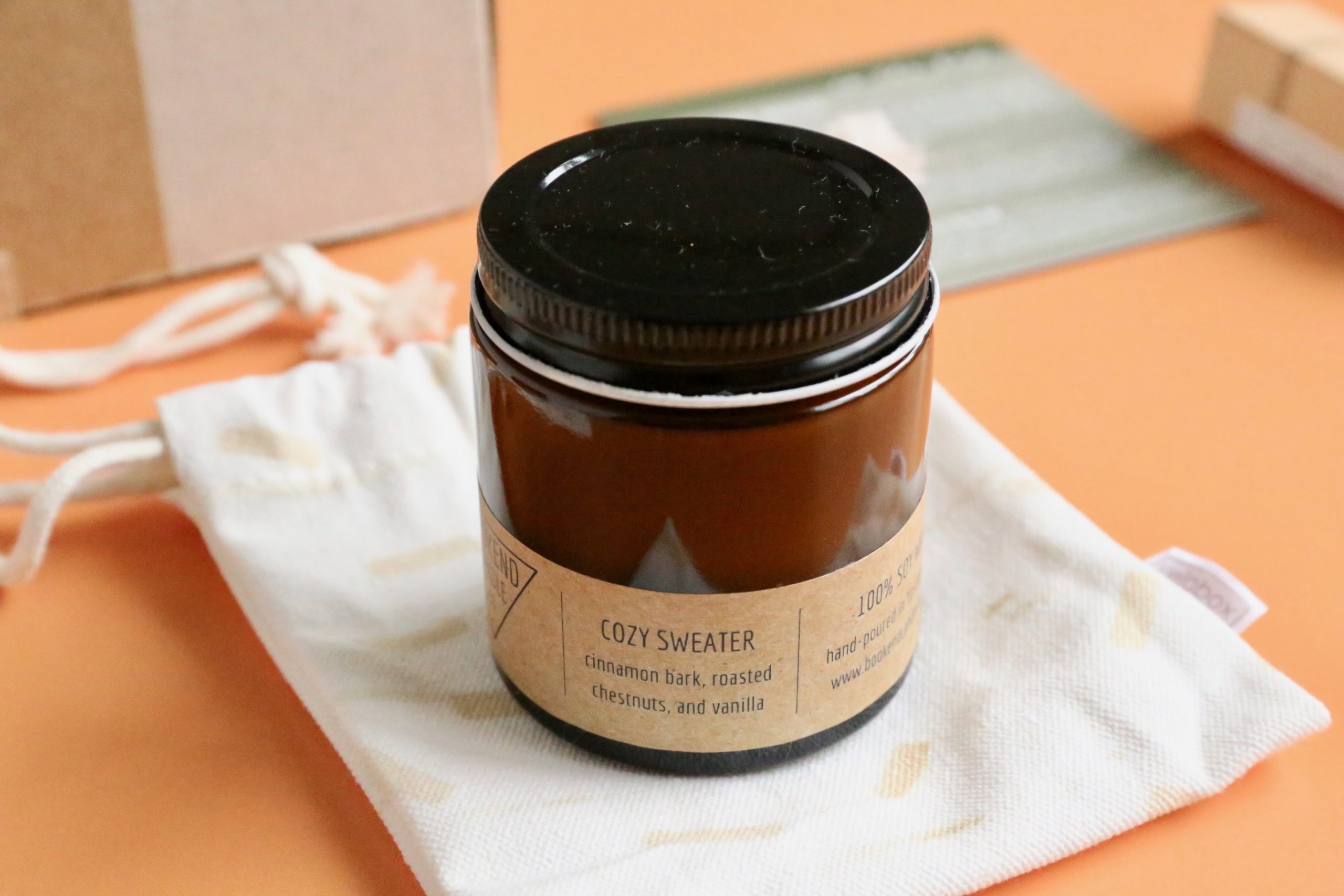 Cozy Sweater
Notes: cinnamon, roasted chestnut, vanilla
Everyone has one, their favorite cozy sweater, it's just the right amount of oversized, soft, perfectly worn, and warm – but not hot. Smells like those cozy sweater kind of days nestled up in front of a fire, snickerdoodle cookies in the oven, and a good book in hand.
This is the perfect candle for a November box! I love the name and I love the scent. The cinnamon, chestnut and vanilla go perfectly together, and it definitely gives off a holiday vibe.
Vellabox Review November 2020 – Final Thoughts
I was worried that Vellabox wouldn't be able to top the October box but they came pretty darn close with the November candle selection. I can't stop smelling the the Coffee House candle, it is just too good! And the Cozy Sweater candle gives me all the cozy holiday vibes which is what I was hoping for. I am beyond excited to see what they come up with for the December box, I just know it is going to be a good one!
-AYOB Sarah