Vellabox Review October 2021
Vellabox delivers all-natural, artisan-made candles to your door every month. Unbox your escape to relaxation and enjoy high quality candles made by America's finest small-batch makers. Every candle found in Vellabox is made with 100% soy or coconut wax, premium fragrance oils, lead-free cotton wicks, and never contains artificial coloring additives. A team of experts curate the best scents for the time of year, so your home always smells in season. They kindly sent us this box for review.
Vellabox is a subscription I always look forward to, but I was especially excited about the October box because I knew it would hold some beautiful Fall scents. And…….even though I have a wonderful little candle collection I am in need of something pumpkiny (is that a word) and I am happy to report that Vellabox delivered!
As I knew they would……
Subscription Details
Vellabox has 3 subscription options to choose from.
Try the Lucerna for $10 / month (4 oz candle), the Ignis for $20 / month (8 oz candle), or the Vivere for $30 / month (4 + 8 oz candle).
For more fun, you'll also receive a bonus gift in each box from a natural lifestyle brand in all box sizes.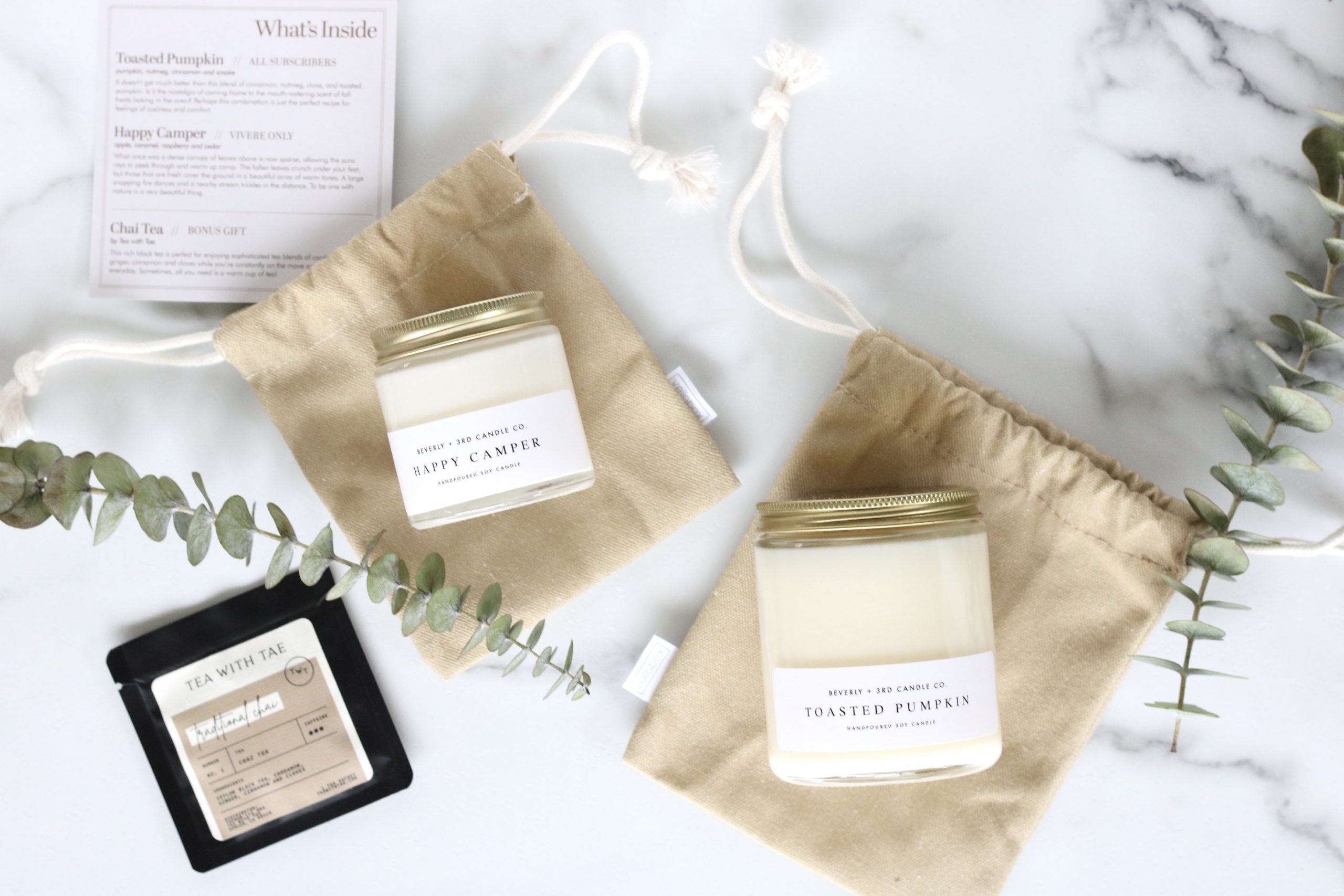 Here's a closer look at the October Vellabox. We are reviewing the Vivere box which features a 4 oz candle and an 8 oz candle…..
October Candle Maker
Beverly & 3rd is from Plainfield, IL. Melissa's products are meant to remind you of life's best memories and pure joy; it was inspired by the founder's grandmother!
I don't always have time to research the candle maker of the month but it's something I want to make more of an effort towards. So, I spent some time on the Beverly & 3rd Instagram page and really enjoyed learning about them. I also had a peek on their website and found a few things I want to purchase…..surprise, surprise:)
Beverly & 3rd Toasted Pumpkin – notes of pumpkin, nutmeg, cinnamon and smoke (smells like fresh baked pumpkin bread)
First up we have Toasted Pumpkin and I am SO happy that it is the bigger of the two because I will be burning this one a ton! I was really hoping for a pumpkin scent in the October box and here it is. I get tiny hints of the smoke, but I mostly pick up the pumpkin and nutmeg. I absolutely love this one.
Beverly & 3rd Happy Camper (vivere subscribers only) – notes of apple, caramel, raspberry and cedar (sophisticated mix of everything that reminds you of camping in fall)
For our second candle we have Happy Camper and this one has wintery vibes, mostly due to the cedar which I could smell as soon as I opened the jar. It is absolutely lovely and will be a great scent as we head in to November.
Bonus Gift: Tea with Tae Chai Tea – black tea sachet with notes of cardamom, ginger, cinnamon and cloves. 
For our bonus item this month we received a tea sample and it's perfect timing because I am going through a serious tea phase right now. We just got a new water dispenser and it has hot water on demand which means it takes me like 30 seconds to make a cup of tea…..I love it!
Vellabox Review October 2021 – Final Thoughts
I am absolutely thrilled with the October Vellabox. It makes me so happy to see seasonal scents in the box, especially a pumpkin scent. One of the things I appreciate most about Vellabox is the fact that they embrace the seasons and/or holidays. It makes the unboxing experience that much better, and who doesn't love a seasonal scent?!
Vellabox is currently one of my must-have subscriptions and I also think it would make an amazing gift for Christmas…..just saying:)
-AYOB Sarah