Vellabox Review September 2022
Vellabox delivers all-natural, artisan-made candles to your door every month. Unbox your escape to relaxation and enjoy high quality candles made by America's finest small-batch makers. Every candle found in Vellabox is made with 100% soy or coconut wax, premium fragrance oils, lead-free cotton wicks, and never contains artificial coloring additives. A team of experts curate the best scents for the time of year, so your home always smells in season. They kindly sent us this box for review.
Don't you just love candles this time of year? There's just something about dark Fall mornings, a candle burning in the kitchen, coffee brewing…..it makes me so darn happy. And having Vellabox candles delivered to my door every month makes me happy as well!
Subscription Details
A team of Vellabox experts curate the best scents for the time of year, so your home always smells in season. Box options range from 25 to 100 hours of total burn time, depending on your monthly candle burning habits.
Vellabox has 3 subscription options to choose from.
Lucerna ($18) – 4oz candle + surprise bonus gift
Ignis ($28) – 8oz candle + surprise bonus gift
Vivere ($38) – 16oz candle + surprise bonus gift
Here's a closer look at the September Vellabox. We are reviewing the Vivere box which features a 16 oz candle…..
September Candle Maker: Authenticality Co. is founded on the idea that everything is better in its purest form with an emphasis on self-care.
Introvert (for fans of Woodsy + Spice) – sandalwood, amber, vanilla
Explore (for fans of Citrus + Herbal) – grapefruit, ginger, bamboo
Calm (for fans of Fresh + Floral) – linen, jasmine, sea salt
This month I received Calm. The name alone makes me love it, and the beautiful scent makes me love it even more. It's exactly as describes – fresh and floral.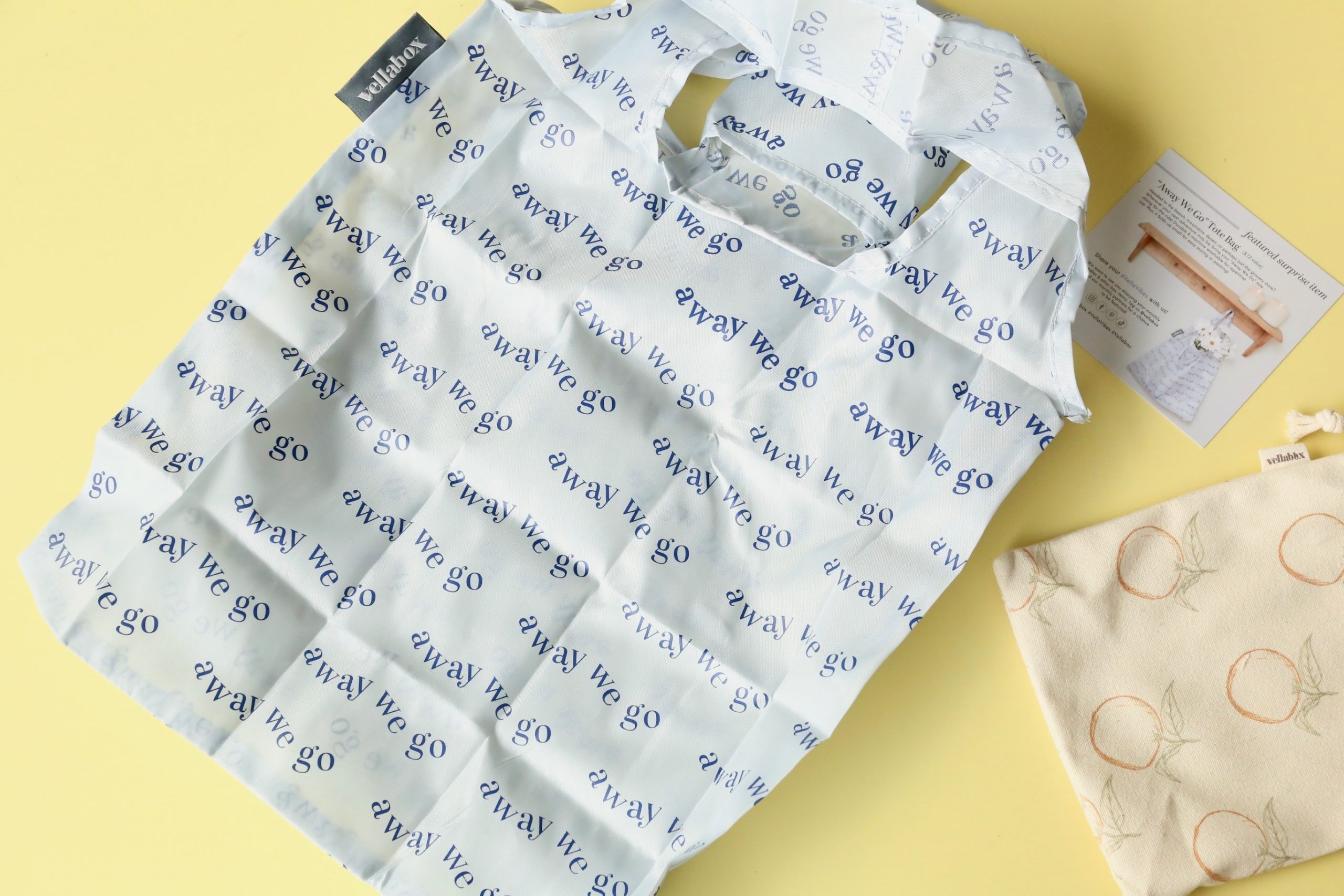 September Gift: "Away We Go" Tote Bag ($12 value)
Headed to the beach, mountains, desert…or perhaps just the grocery store? Durable, foldable & machine washable for reuse, bring your "Away We Go" tote along for the ride!
You all know how I feel about reusable tote bags….I LOVE them! This one is great because it comes in it's own little pouch, perfect for storing in your purse. I will never be without a tote bag again.
Vellabox Review September 2022 – Final Thoughts
The September Vellabox is lovely and brought with it a really great bonus item. I have the candle sitting beside me as we speak and the fragrance is so pretty and so fresh. This will be a great one for the bathroom, I will place it on my bath tray and burn it during my weekly "me time" bath. But…..as much as I love and appreciate this month's candle selection I am SO ready for Fall/Holiday scents. I can't wait to see October spoilers……
-AYOB Sarah