Work • Space • Spark Review October 2022
Work • Space • Spark is a career growth community and office decor/tools subscription box for working professionals. The box is delivered monthly and ships to the US, Canada and military bases around the world. Additional international shipping is available on request.*
*They kindly sent us this box for review
The Work • Space • Spark box includes 4 to 5 work-related items like desk supplies, career books and tech or productivity tools. Each membership also comes with exclusive access to strategies for career growth via online videos, courses and monthly ask-an-expert office hours, together valued at over $199 USD per month.
Here's a closer look inside October's Career Mastery edition:
Career Rehab: Rebuild Your Personal Brand and Rethink the Way You Work ($19.99)
"It may be time to renovate your career and finally land the job of your dreams. Learn the tools you will need to create the life and career you want."
The Little Book Light ($10)
"This stylish little classic light clips to your book or stands on your desk to light the page of your favourite book."
Mechanical Pencils ($14)
"A beautiful desktop detail and a perfect choice for everyday note-taking. Each mechanical pencil is refillable and hides a capped eraser."
Golden Sun Notepad ($10)
"Bring a little sunshine to your day. Jot down your to do's or take notes on this inspiring notepad."
Ubrand Binder Clips ($7)
"Add a fun and personal touch to your workspace with these assorted Flower Binder Clips by U Brands."
Monthly Career Training and Interviews ($249+)
Each membership also includes exclusive access to strategies for career growth via online videos, courses and monthly ask-an-expert office hours. October's training session is with Career Rehab author, Kanika Tolver and titled "What Does Quiet Quitting Really Mean".
"First The Great Resignation and now Quiet Quitting. We can all agree that the workplace has changed over the last few years and has created new workplace trends. Career expert and author Kanika Tolver is joining us to talk about these trends and how to successfully rehab our careers."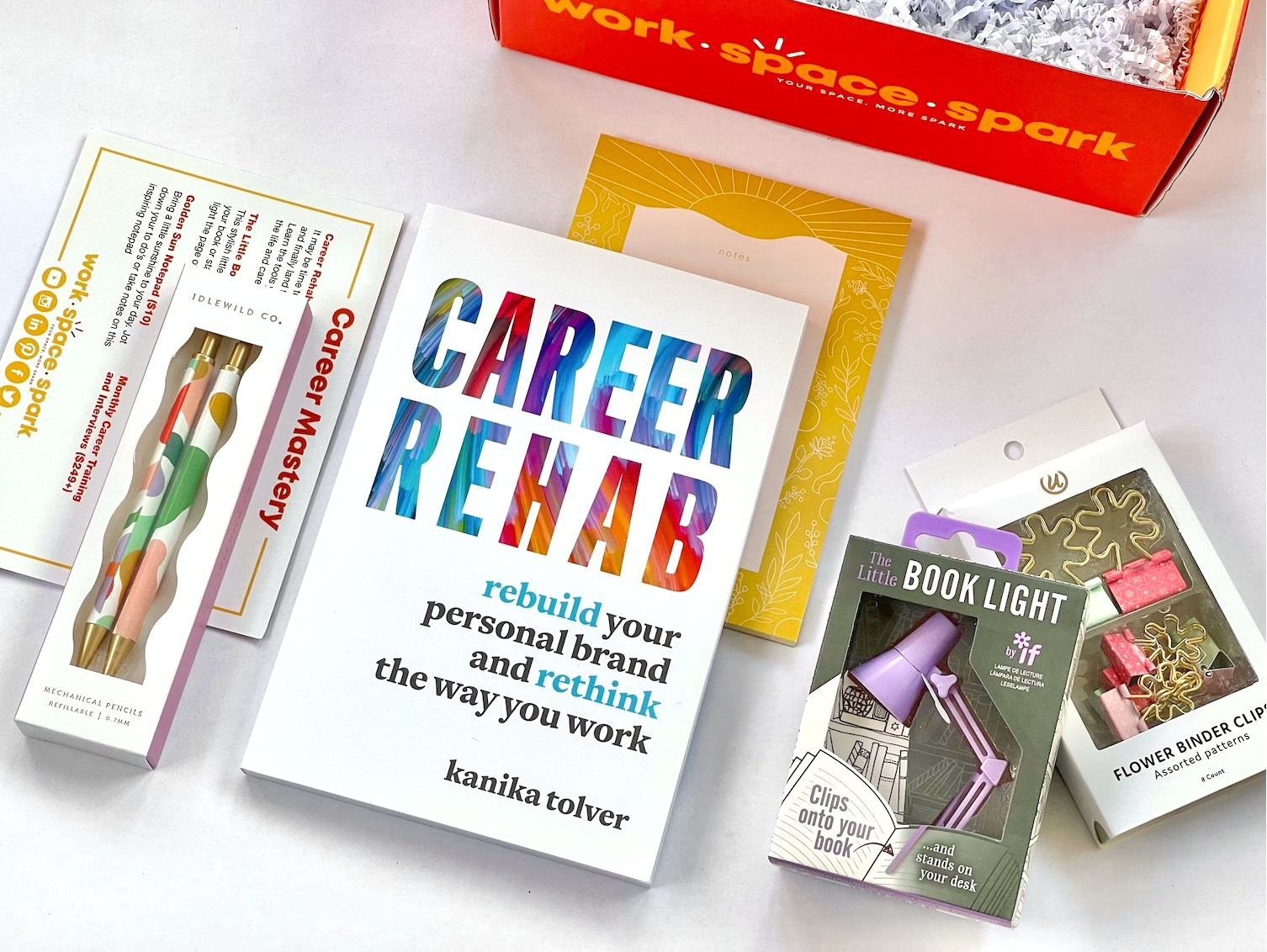 Whether you're an entrepreneur or employed with an organization, work demands can make it challenging enough to keep up with the daily grind, let alone budget time and money for career planning. I like that Work • Space • Spark offers flexible online training that you can watch when it suits you and the themes and experts vary each month. And I love the bright colours and creative design in October's desk accessories. They make me smile and I'll get all kinds of use out of them. Sometimes some new stationery is all it takes to spark an idea, other times a fresh perspective can "spark" a career change. Or growth. Or renewed motivation. Or all three! I really like the concept behind Work • Space • Spark and I'm looking forward to seeing what sparks future boxes will bring!
Try Small Things – https://trysmallthings.com