YumeTwins Review September 2018
YumeTwins is a monthly subscription box filled with kawaii goodies straight from Japan! Each month you'll receive 6-8 fun items ranging from plushies, household supplies, stationary, and other cute items that you can incorporate into your day-to-day lives. Each month's box costs $35 with free international shipping!
Box Details: Receive 6-8 kawaii items including plushies, stationary, wearables & accessories, household items & decor, toys and so much more. YumeTwins curates high quality, trendy items to give you the full Japanese kawaii culture and experience. They're all straight from Japan, too!
YumeTwins Packages:
Monthly Plan: $35
3 Months Prepaid Plan: $100.50 ($33.50 per box)
6 Months Prepaid Plan: $192 ($32 per box)
12 Months Prepaid Plan: $378 ($31.50 per box)
Shipping: Free Worldwide Delivery
Here's a closer look at September's box theme and the items I received this month….
September's Theme – Staycation
September's theme is Staycation! Have you ever wanted to go on a vacation, but didn't have enough time to get out of the country or even out of your hometown? Well, this box was curated with items to help make your staycation trip a little bit easier. Use these items to plan a weekend getaway where you can relax and have fun without having to go too far from home!
Included in every box is a mini magazine that gives you in-depth details of each item in the box, upcoming news, and mini activities!
Cute Zipper Bags
I think these zipper bags fit perfectly in the staycation theme. You could use these to pack snacks like chips, crackers, cookies and etc. for your getaway or for your lunch. There are 4 bags in a pack and these do feel very sturdy and durable. Not to mention, the glass jar design is very cute! There are 6 different character designs and I got the Pokemon/Pikachu version!
Sanrio Eco Bag
Another great fit for the theme is this Sanrio Eco Bag. It comes folded in a neat little pouch making it a great travel item that you can easily store and tuck away without taking up much space. The eco bag itself is pretty big and has a lot of space to carry your staycation items in. I think this is a great alternative to bring while grocery shopping to! It comes in two different designs – Little Twin Stars or My Melody, as well as a handful of different colors!
Character Toothbrush Kit
Surprisingly, my favorite item this month is this super practical toothbrush kit! There are two possible variations, a Hello Kitty print like the one I received, or a yellow cup with a Totoro design. Each kit comes equipped with a small cup, and a toothbrush + toothbrush case. I love how the toothbrush case can double up as the handle, or as a toothbrush cover during travel. The toothbrush bristles are kinda stiff and the quality isn't the best, but as a travel item, I think this kit perfectly fits the bill!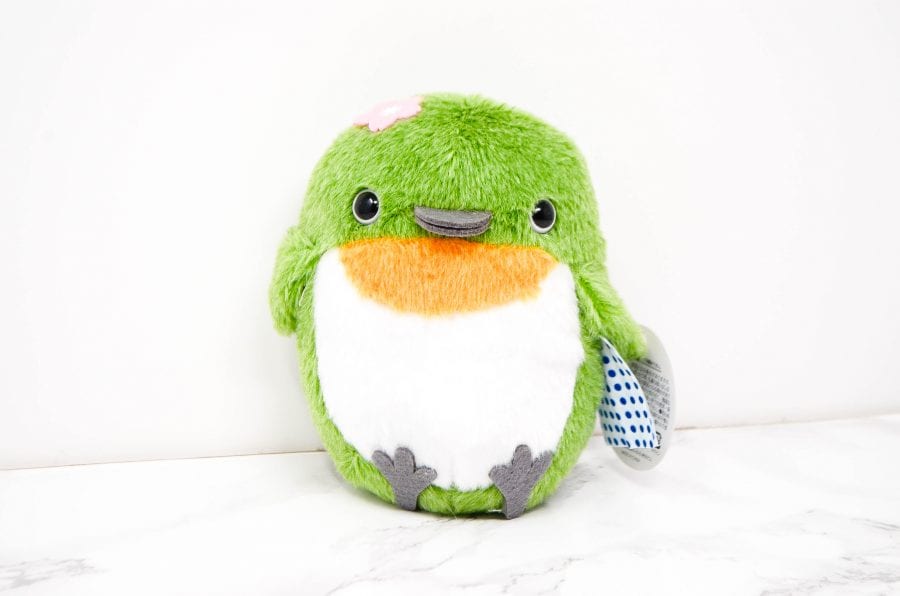 Onsen Bird Plushie
This month's kawaii plushie features the Onsen Birds. Onsens are natural Japanese hot springs that many people visit while on a weekend getaway. These cute birds come in a handful of colors and designs, but all look very happy, peaceful, and relaxed. I received the green bird, which has an adorable pink cherry blossom right on her head. The plushie is very soft and a great cuddle buddy.
Disney Tsum Tsum Tumbler
A tumbler is a great traveling essential for any staycation. You can use this adorable Tsum Tsum printed tumbler to bring along your favorite drinks. The bottle is made of a sturdy plastic with a secure twist-off cap making it ideal for travel.
Marumofubiyori Sticky Notes
I can never get enough of cute stationary items! The Marumofubiyori sticky notes come with 8 different, colorful designs. These are small and come in a compact mini booklet. They're great for when you need to stay organized or jot down quick notes. This matches perfectly with the Marumofubiyori notebook I got in last month's box, too!
YumeTwins September Review – Final Thoughts
This month's YumeTwins box felt a little underwhelming, but it was still a nice selection of items. The items just felt a little lackluster, but it might be because I don't travel often. Nevertheless, I can still find a use for every single item in the box. What I did really like about this month's box is that every single item fit into the theme perfectly. I loved the variety between product types as usual, and this month included a plushie, cute stationary supplies, and several home goods.
I'll definitely be using the Pokemon Zipper Bags to pack my snacks to work, but my favorite item this month was the Sanrio Toothbrush Kit! It's such a simple, but useful item that I think is essential for when I travel and stay in hotels!
Mary Vu – http://thepointofvu.blogspot.com