Let's Go Eco Spoilers Winter 2021
Let's Go Eco is an eco-friendly, sustainable, natural, ethical, luxurious and PLASTIC-FREE quarterly subscription box.
---
Here's a peek at the first three items in the Let's Go Eco Fall Box 2021…
SPOILER ALERT!!
The 1st Winter Eco-Box Spoiler is… Artisan Vegan Chocolate Bar from Indigenous Owned Business @ravenrising.ca based in Sudbury, Ontario.
Every season we feature an indigenous business and we're honored to introduce you to Raven Rising. These chocolate bars are individually handcrafted by founder Chef Tammy Maki. Each is unique and meticulously handmade with the finest dark chocolate and chocolate embellishments. Vegan and gluten free, these stunning bars are works of art and so good.
Global Indigenous is Raven Rising's inspiration and legacy. Tammy's chocolates and pastries focus on traditional ingredients sourced, wherever possible, from Indigenous people and businesses in Canada and globally. They strive to offer sustainable, ethically sourced, traceable, Fair Trade, and organic ingredients. To honour family members, friends, and everyone affected, a portion of their profits are donated to, "Indian Residential Survivors School Society" which creates awareness of the impacts of Indian Residential Schools.
Vegan | Handmade | All Natural | Indigenous Business | Plastic Free/Compostable Packaging | Woman-Lead Business | Gives back
SPOILER ALERT #2!
@solmatesocks Crafted with Care from Recycled Fibers, Zero Waste and Certified B-Corporation
These whimsical socks are designed to accentuate style and natural beauty and are meant to be worn with confidence and pride. They are full of love, warmth and character. Solmate Socks are so much more than that and we chose them for their leadership efforts and commitment to sustainable production. These socks are proudly crafted with care from recycled fibers in their family-owned mill. On top of all that, Solmate has been donating socks for the past 20 years to various charity groups across the US, including family services organizations, refugee centers and homeless shelters. We have four styles, Nutmeg, Mirage, Fox Tail and Westeria and you'll get a random design in your box.
Upcycled | Uses RecoverTex Yarns Reclaimed from Production Scraps | No New Plastics | Certified B-Corp | Zero Waste | Woman-Founded Family Run Business | Global Recycling Certified | Gives Back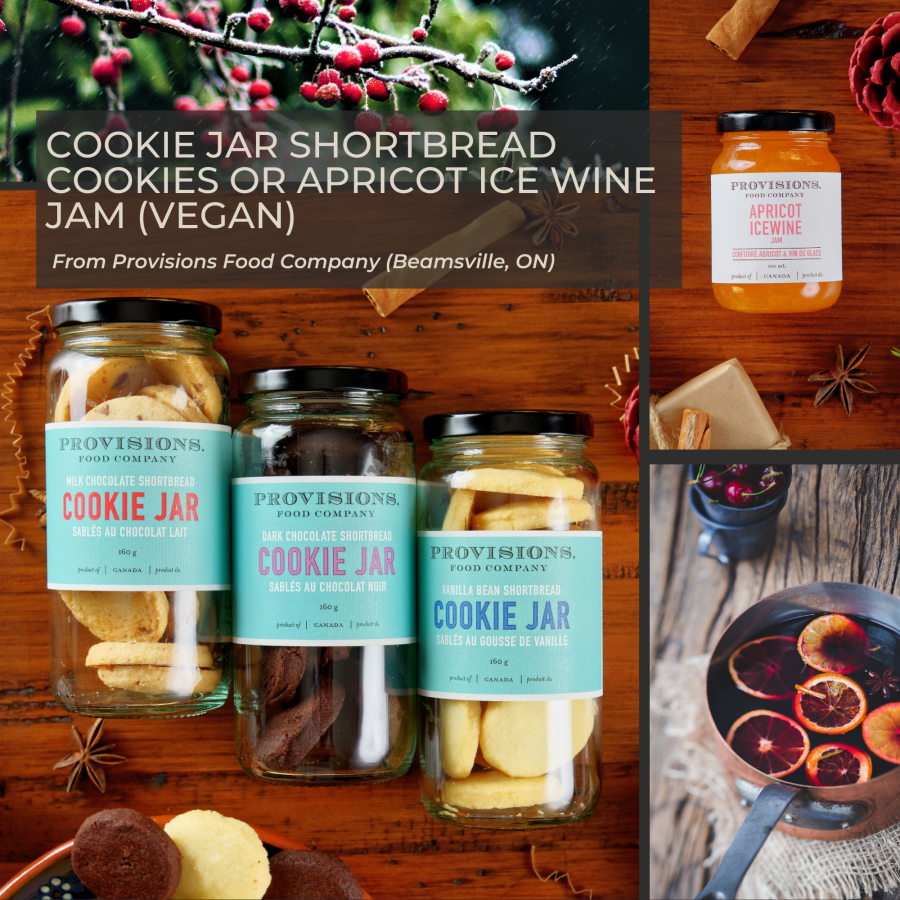 SPOILER ALERT #3!
Cookie Jar Shortbread Cookies or Apricot Ice Wine Jam (Vegan) from Provisions Food Company. (Beamsville, ON)
Crumbly and decadent, these delicious shortbread cookies are a wonderful treat and perfect for the holiday season. You'll randomly get one of three different flavours in your box… Vanilla Bean, Milk Chocolate Chip or Dark Chocolate. These shortbreads are all natural, preservative free and made with real creamery butter. Vegan subscribers will get a jar of Provisions sophisticated and delectable Apricot Ice Wine Jam. All Natural, vegan, and preservative- fat- and gluten-free.
All Natural | Plastic Free | Woman-Lead Business | Small Town Made | Small Catch Crafted | Non-GMO
---
Box Details: Let's Go Eco boxes are filled with the latest eco-conscious brands and trends in home, fashion, health and wellness and are specially curated to help people live a more low waste, more eco-conscious lifestyle.
-AYOB