MorpheMe Brush Club Spoiler July 2017
With MorpheMe Brush Club you can get your hands on quality brushes for an amazing price! Every month you'll get anywhere from 3-7 new MorpheMe brushes. Never the same brush twice.
Here's a peek at the July brushes:
Let's take a closer look at the July Brushes: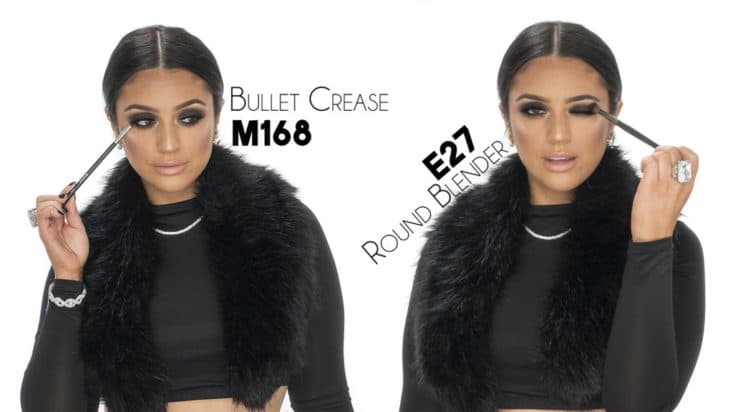 M168 Precise Bullet Crease
A teeny, natural-hair domed brush that is great for smudging out liner or packing on bold pigment. You can use it to smudge out your pencil liner, or pop some bold eyeshadow on your lid or under eye! The small size makes it perfect for highlighting your inner corner or brow bone, too.
E27 Pro Round Blender
A slightly tapered blending brush with a fat, rounded tip for buffing in color and smoothing edges. This brush will help you build a smooth transition in your crease! The large surface area of the bristles will achieve really seamless blending.
M170-2 Oval Taklon Lip
A synthetic oval brush with firm bristles to create really sharp, precise lines with any lipstick! Use it (with your fave KissMe shade of course!) to apply lipstick all over, blend out an ombre, or even pack glitter onto your eye looks!
M173 Mini Buffer
A short, dense synthetic buffer brush with a rounded tip that's perfect to blend out under eye concealer or place cream contour products. I particularly love this little guy for applying eye primer! It's also really great for blending out spot concealer or under eyes.
M207 Sable Angle Liner
This natural hair, angled liner brush has a fine tip for precise lines! Use it with powder or gel for eyeliner and create a sharp, sexy cat eye. The small brush head also works great for a brow brush!
M250-2 Detail Liner
An ultra-fine, synthetic, detailed liner brush with a long tip to create defined lines, great for liquid and gel liners. This liner brush will help create, long, straight lines in a single swoop! Really great for winging.
M331 Jumbo Crease
A large, natural tapered brush that applies a dense amount of product and blends out very soft edges. This is a good brush to get an extra dark, defined crease by applying pigment directly with the brush! You can also use it clean to blend out really soft, controlled edges to your eyes.
M411 Pro Firm Blending Crease
A soft natural tapered crease brush with a pointed tip that's great for creating a sharp crease or defining outer corners! The pointed tip on this brush is really great for defining a really intense crease or creating a sharp line of color. You can get pigment in your inner and outer corners with this little guy!
---
Box Details: Every month you'll get anywhere from 3-7 new Morphe brushes.
Thoughts: 8 brushes this month! I am ashamed to admit that I used to only use 1 brush for my entire eye make-up. I am completely seeing the errors of my ways now!
Question: What do you think of the May MorpheMe Brush Club Spoilers?
XOXO