Ruby Crate Spoiler #1 Spring 2022
Ruby Crate is a fun and unique subscription box for tweens and teen girls filled with treasures of beauty, style and self expression to inspire imagination.
---
Here is a peek at the first item in the Spring Ruby Crate…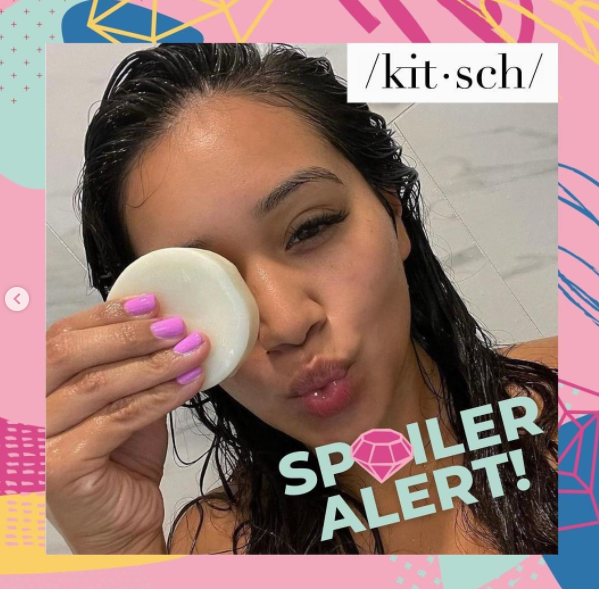 Spoiler Alert! 
We are in packing mode and are so excited about all the products in our Crates! So excited that we wanted to spill the beans a little. Check out this awesome spoiler for our crates!
Did you know that over 100 million bottles end up in landfills every year? This fabulous company that we love, @mykitsch created beauty bars that are packed with salon-quality, earth-friendly ingredients without the plastic waste. Bottle-Free Beauty – redefined. We loved partnering with them again (for those that received our Winter crates – they were the brand behind those silk pillowcases too!) Love them! 
We have chosen a few of their bar products for our crates – so will be a surprise which one that will be in your crate!!
Female founded and owned, Kitsch is a beauty powerhouse built on positivity and pure hard work. With easy, fun beauty solutions that are reliable and practical but also are truly special and made as sustainably as possible. Check them out!
Back to packing up! 
And…we may have a few Spring crates left to order – so grab yours today so you can get in on all the fabulous stuff inside!
---
What You Get: All Ruby Crates are personally curated with fun, trendy and memorable products for that special girl to enjoy and share.
Enjoy and explore 5-7 unique products in every Ruby Crate.
Discover and delight in new beauty and skin care products, cool accessories, tech gadgets and tasty snacks.
Custom-curated, Ruby Crates arrive four times a year, coinciding with the seasons (March and June, September and December) and are ready to be enjoyed and shared.
Choose between our Year-Long Ruby Crate subscription (four crates, one for each season), our one-time celebratory Birthday Crate, a single Ruby Crate, Double Ruby Crate (with twice the fun products inside) and our special edition Grad Crate.
-AYOB