Vellabox Spoilers November 2021
Vellabox delivers all-natural, artisan-made candles to your door every month. Unbox your escape to relaxation and enjoy high quality candles made by America's finest small-batch makers. Every candle found in Vellabox is made with 100% soy or coconut wax, premium fragrance oils, lead-free cotton wicks, and never contains artificial coloring additives. A team of experts curate the best scents for the time of year, so your home always smells in season. Box options range from 25 to 100 hours of total burn time, depending on your monthly candle burning habits.
---
Here's a peek at the candles in the November Vellabox…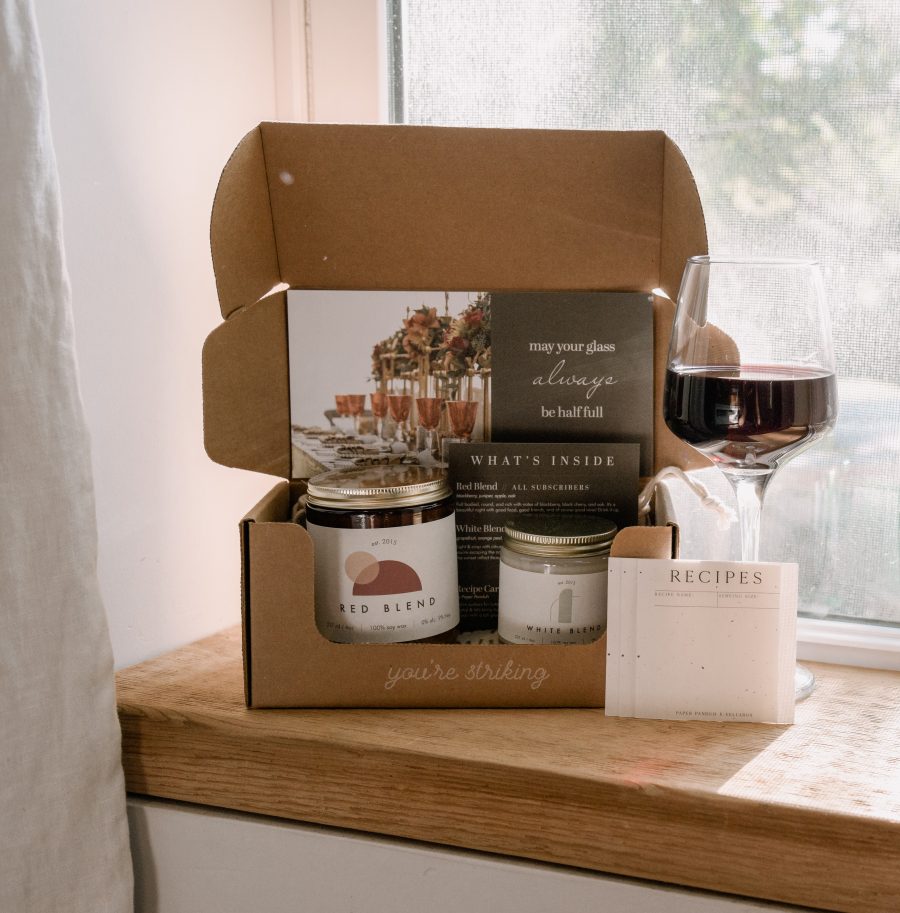 This month only our box features our very own Vellabox candles – and what better than a fun wine-themed duo!
Vellabox Red Blend (Primary scent – all subscribers) with notes of blackberry, juniper, apple and oak
Vellabox White Blend (Vivere subscribers only) with notes of grapefruit, orange peel and vanilla
Gift partner of the month: Paper Panduh's recipe cards to encourage subscribers to document and share on social media their favorite holiday recipes!
Each November subscriber will also receive a coupon for our limited edition wine flight (a 4oz candle trio including the red, white plus an additional sangria candle). 
IMPORTANT NOTE: Our box is getting an upgrade! Coming December, a 16 oz candle will replace the 4oz + 8oz candles in the Vivere box, now with a longer burn time and stronger scent throw. ALSO, all subscribers will have the opportunity to customize their box to their scent preferences. Stay tuned for all the exciting changes 🙂
---
What You Get: Vellabox has 3 subscription options to choose from:
Lucerna for $10 / month (4 oz candle)
Ignis for $20 / month (8 oz candle)
Vivere for $30 / month (4 + 8 oz candle).
For more fun, you'll also receive a bonus gift in each box from a natural lifestyle brand in all box sizes.
-AYOB