Sparkle Hustle Grow Review September 2019
Sparkle Hustle Grow is a monthly Subscription Box for female entrepreneurs! Add a little happy to your hustle with this monthly mailer box made just for you. Each month, you'll receive 4-6 items like books, chic office supplies + tech gadgets PLUS access to an online training. Once a subscriber, you will be invited to our private Facebook community where we connect, collaborate, and support each other. They kindly sent me this box for review.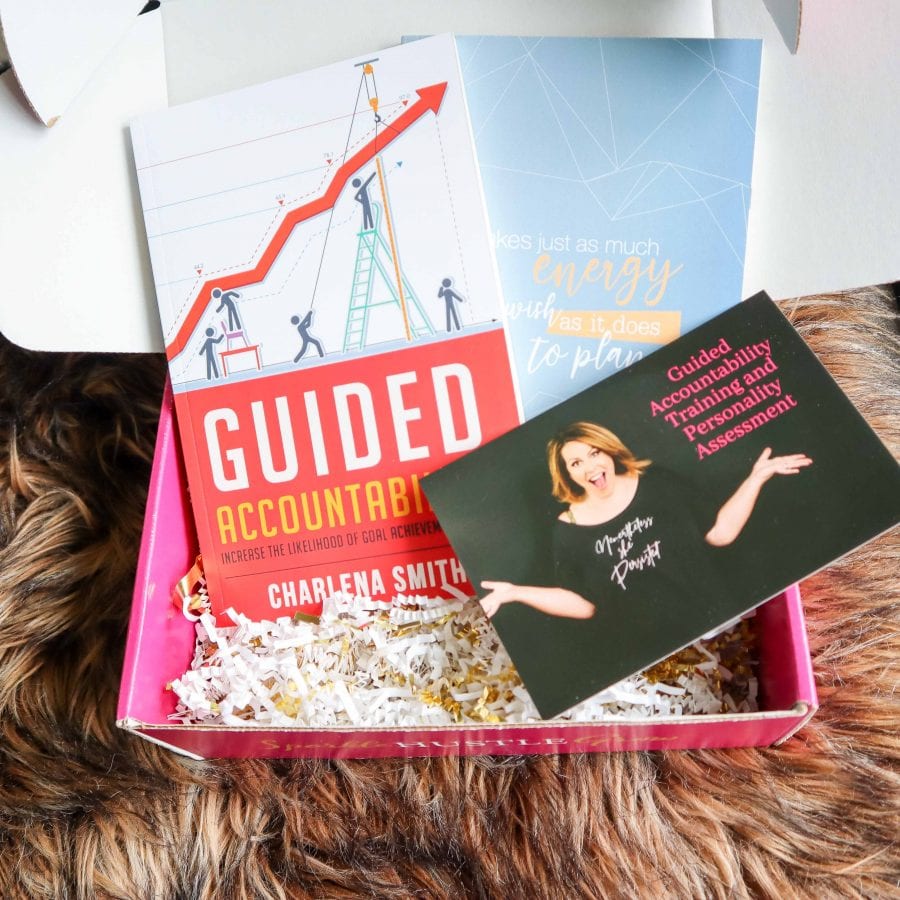 What an inspiring box for the modern day boss babe! When the bright pink Sparkle Hustle Grow box showed up in my mail box with it's gold writing and confetti filling, my work-at-home girl-boss heart sang a little. It is important to learn how to motivate yourself every single day as entrepreneur. Sparkle Hustle Grow is a great monthly reminder to do just that.
I was impressed at the incredible value I saw in the September 2019 box I received. I've always been so curious about online boss babe training courses out there, but they were always way out of my budget. This box included a Guided Accountability Training + Personal Assessment by the amazing boss babe, Charlena Smith, valued at $497 alone. It was also accompanied by the included book and planner that go with the course: Guided Accountability: Increase the Likelihood of Achievement by 97% and the Guided Accountability Planner.
Before I tell you about the fun tangible things you get to touch in the Sparkle Hustle Grow box, there is one more exciting piece to your success that is priceless in the best way ever – a community! Yes, this box comes with an exclusive Facebook group for subscribers where you can take advantage of book studies, real life accountability partners, as well as fun and inspiration. A positive boss babe community will be a game changer for your business!
Glow Getter Highlighter Set
Naturally, as boss babes, we also require fun and beautiful office supplies to make our jobs so much more fun! I loved the Glow Getter Highlighter Set in the box by Yes Studio. Each beautifully colored pen featured a different inspiring saying like "Good Vibes Only" or "#GOALS."
Desktop Accessory Tray by Poppin
The included Desktop Accessory Tray by Poppin was a great place to store my new pens and keep my desk drawer organized. I was really impressed with the great quality, and the beautiful "blush" color of the tray.
Lined Journals from Thimblepress
If you're going to be slaying all these amazing courses, you are also going to need some fancy notebooks for all of your great ideas! The included 3-pack of Lined Journals from Thimblepress were so cute and the perfect size to fit in my purse. I find that my best business ideas always pop into my mind while I'm out and about, so it's nice to have a place to write things down. The notebooks had a sweet floral design, and had gold embossed words on the front that stated words like plans, notes, and dreams. They were so perfect!
"Whole Lotta" Cliff bar
With all the hard work and hours of an entrepreneur, you're likely to get busy – which means you're very likely to get hungry. But let's be real, we don't always have time to sit down and eat a full meal. I loved that they included a "Whole Lotta" Cliff bar as a treat – filled with healthy fruit, nuts and seeds – to keep a boss babe nourished! You don't want to mess with a hungry boss, if you know what I mean!
Sparkle Hustle Grow Review October 2019 – Final Thoughts
So, if you can't tell, I was SO excited about the Sparkle Hustle Grow subscription box! I would highly recommend it to any female entrepreneur out there looking to upgrade her life and business. Not only does it have incredible, fun tools to hold and use – but the community, the included book and online courses are worth every penny and beyond. You can't afford not to get this box.
Jamie – https://www.sparkleandgrow.com
Sparkle Hustle Grow is a monthly subscription box and online community for female entrepreneurs. It's for the the go-getter, the CEO, the side hustler. As seen in Forbes, Us Weekly, Brit + Co, USA Today, Buzzfeed.
Learn More about Sparkle Hustle Grow »