Naked Snacks Review July 2017
Naked Snacks is a monthly snack subscription box that sends you 5, 10 or 20 nutrition snacks each month. They believe in making healthy food more accessible and stay away from processed ingredients. They follow the 80/20 rule of snacking: 80% whole grown goodness, 20% reward for making smart decisions and have gluten-free and vegan friendly options.
Oh my goodness, this is the best day ever!! My snack-obsessed self is beyond excited right now. It's been almost a year since my last Naked Snacks review and that is WAY too long. Not only is Naked Snacks one of the best snack boxes on the market, they also happen to be based in Canada, which makes me love them even more. Since my last review Naked Snacks has made some changes so let's go over the details…..
Subscription Details
When you sign up for a Naked Snacks subscription you have a few options to choose from:
Option #1 – 5 large bags / 20 portions inside each box
Option #2 – 10 large bags / 40 portions inside each box
Option #3 – 20 large bags / 80 portions inside each box
You can also choose from 3 different delivery options: every 2 weeks, every month, or every two months.
You then get to choose your snacks or you can let them choose for you. Here's a look at the snacks they sent me this month. We are reviewing Option #2 which includes 10 bags per box.
Wholesome Yogi
Invite good karma into your day with Wholesome Yogi. This mix of heart healthy nuts is well balanced with nutritious pumpkin seeds, flavour-filled cranberries, and topped with Greek yogurt chips to help support healthy digestion. Remember to breathe and enjoy one of the most nutritionally beneficial snacks we offer. Wholesome Yogi will leave you feeling like you've just woken from a long, deep savasana. Namaste!
Technically I'm not supposed to eat yogurt chips, but they are just such an amazing addition to trail mix. This is a really great mixture. I like that it includes pumpkin seeds, they are so good for you.
Morning Bestie
Take your morning break to the next level. Ditch the high-calorie baked goods from the coffee shop and spend it with your Morning Bestie instead. The roasted edamame beans in this snack are low calorie and a great source of dietary fibre, while the antioxidants from the dried cranberries help keep your body running smoothly. The best part of course, the delicious dark chocolate is linked to 40+ health benefits. Double yum!
Such a unique take on regular ol' trail mix. The roasted edamame beans are a nice change from almonds and cashews. This one is simple, containing only 3 ingredients. It will be great with my mid-morning coffee.
Temple Stay
Temple Stay is a snack inspired by the clean ingredients and balanced taste enjoyed in Korean temples. The sweetness from the dates and saltiness from the rice sticks create a harmonious taste profile. Black beans can aid in digestive health and regulation of the body's blood sugar levels, while also helping prevent cardiovascular disease. Iron from the dates will glue you a store of energy to use for your next activity, or quiet moment of calm.
Ummm…..how fun is this! Roasted black beans!? What!? I am so excited to give this one a try. Dates and rice sticks are amazing on their own, I can only imagine how good they will be mixed together with the roasted beans.
Maple Praline Almonds
Maple Praline Almonds are our salute to the Great White North. Thanks for being awesome, Canada! We use the finest maple syrup from Quebec and mix in some praline deliciousness. The two go together like flannel and lumberjacks. These crunchy nuggets are artisanally crafted in small batches using superior grade California almonds. It's not all indulgence though, almonds also help to build and maintain strong bones. Strong bones for everyone!
These are a classic nutty snack. I've loved praline almonds since I was little. I remember having them around the holidays. These wouldn't be something I'd reach for everyday, but I will definitely enjoy them as a special treat.
Sriracha Cashews
Sriracha is so hot right now, in all sorts of ways. We took some time to decide which of our favourite nuts could handle the action this exotic hot sauce brings to the table. It turns out that the smooth, rich flavour of the cashew is the perfect dance partner. Cashews glue you an extended energy boost and help support the immune system. And Sriracha…well, you'll have to let your taste buds decide!
I've had these before and they are really good. But then again I love sriracha, or anything spicy for that matter. The creamy, sweetness of the cashew balances the spicy sriracha perfectly.
Tuscan Road Trip
Everyone loves a road trip, especially with a companion like this! This scrumptious mix was inspired by our healthy hunger for adventure. Explore new horizons with all the goodness of super-berries, mighty nuts, and delicious dark chocolate. Almonds help build and maintain strong bones, while cherries are considered a good source of dietary fibre. Lest we forget, dark chocolate is linked to 40+ health benefits. Happy travels!
Trail mix that includes chocolate is a weakness of mine……I could eat it by the truck-loads. Luckily the chocolate in this mix is 70% dark chocolate which makes me feel a bit better about eating it. I also like the addition of dried blueberries and cherries. A few years back I went through a serious almond/dried blueberry phase. Until I saw them together in this snack mix I almost forgot how much I love that combo.
Mexican Remix
Enjoy this spicy snack inspired by our love for all things Mexico. The gentle heat from the chilli pumpkin and roasted corn nuts pair with the smoothness from the 70%+ dark chocolate buttons. Candied citrus heightens the experience with a fresh burst that keeps your taste buds dancing through the day. Pumpkin seeds contain L-tryptophan which supports a good night's sleep, and dark chocolate is linked to 40+ health benefits!
Now this is interesting! Here we have a mixture of roasted corn nuts, roasted pumpkin seeds, chilli seasoning, candied citrus, 70%+ dark chocolate buttons. At first glance I am a little skeptical, but I am also kind of intrigued. This one could go either way.
Hearty Tamari
Hearty Tamari is one of our most popular sauoury snacks. It's the perfect healthy alternatiue to those no-good potato chips. Instead of empty calories, this delicious snack will Leaue you feeling happy and satiated. Sesame sticks and spicy pretzels mix with almonds and cashews, all louingly slow roasted in delicious Tamari. This exotic taste from Japan confirms what we already knew – for good times, make them Tamari times.
Eeek…..I was hoping to see this mixture in the bag. I love tamari and I LOVE sesame sticks……I really do. When it comes to snack mixes I usually opt for the sweet variety, but this particular mix is a very close second.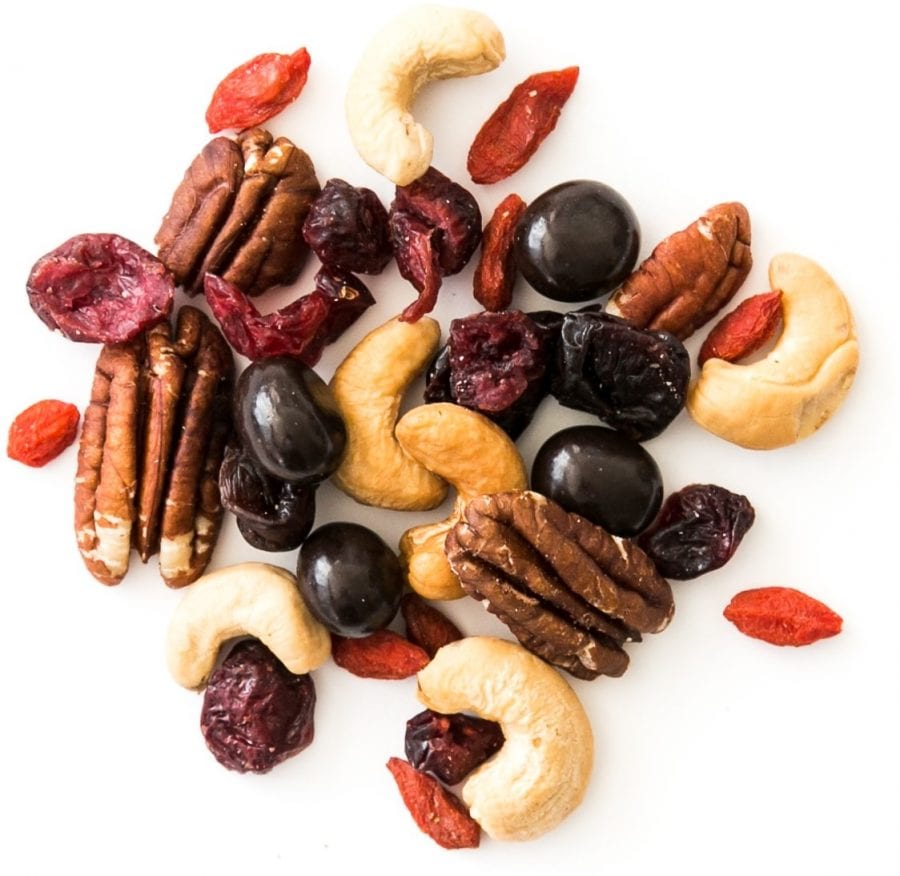 3pm Goji
Ladies and gentlemen, introducing the super-snack! This very-berry treat is jammed full of goodness to shake you out of your 3pm slump and power you through the day. Goji berries give you slow-release energy for work, exercise, or whatever you need to get done. We're not just talking energy here, this snack also contains a super amount of antioxidants to cleanse your body and keep it running happy and healthy.
Now we are talkin'. Check out this ingredient list: dried bing cherries, goji berries, roasted cashews, toasted pecans,70%+ dark chocolate coffee beans, and dried cranberries.
I'm super happy to see goji berries and pecans in the mix. And what a great idea to include dark chocolate coffee beans! So fun!
Orchard Apple Rings
Snack time can often get messy. Our Orchard Apple Rings are the perfectly packaged snack food with no sticky texture, or badly behaved nuts to worry about. Fresh from the orchard, these rings have a soft and comforting chew. This can be a nice change from some of our more crunchy snacks. Apple's are rich in vitamin B, C and antioxidants, and the pectin helps to reduce bad cholesterol. It really is true what they say, an apple a day!
These apple rings are a nice change from the snack mixtures. This is about as simple as it gets. I grew up on a farm and we had a variety of fruit trees including apple trees. Therefore I appreciate a classic, natural snack like this. They will be perfect for road trips…..not as messy as digging your hand into a bag of chocolate and nuts.
Naked Snacks Review July 2017 – Final Thoughts
I am absolutely thrilled with my July Naked Snacks box. You have no idea how happy I am right now. Is it weird that a box full of snacks makes me happier than a box of makeup or a box of clothes? I really am THAT obsessed with snack foods, I won't deny it. Since my last Naked Snacks review they have added a couple more subscription options. I LOVE that you can now choose to receive 5, 10 or 20 snacks. The 10-snack Box is absolutely perfect for me. The 5-snack box just wouldn't be enough. I also love that you can choose your shipping schedule – biweekly, monthly or bimonthly. I'm one of those people who needs to have snacks on hand at all times. Not only for myself, but for guests as well. If someone comes for a visit I like to be able to put out a bowl (or two) of snacks to nibble on while we chat. I am in love with this subscription! I need it in my life indefinitely!
XOXO
Explore.
Save.
Enjoy!
Sign up for a free account on A Year of Boxes to receive exclusive offers, be added to our monthly mailing list, and much more! We are always adding features to improve the experience for our users, from their valuable feedback!
Join Today!